Secretly Scheming! Inside Rob Kardashian's Hush-Hush Meetings With Scott Disick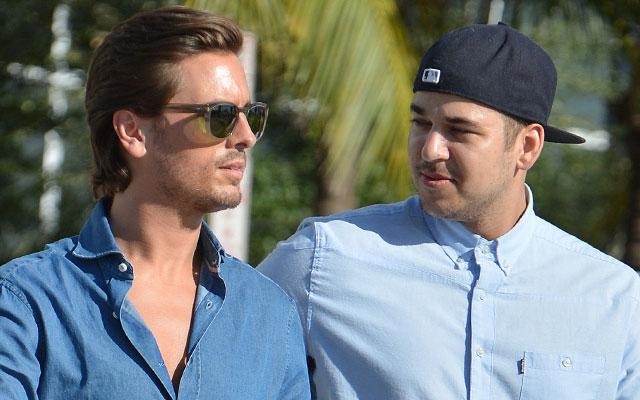 Keeping up with the Kardashians outcast men Rob Kardashian and Scott Disick have been hanging out a lot lately and RadarOnline.com has exclusively learned that it is all part of Kris Jenner's master plan!
"Rob has been spending time with Scott again, and Kris is the one who initiated this," a family insider told RadarOnline.com. "Kris knew that if anyone could get through to Rob it would either be Scott or Lamar."
Article continues below advertisement
According to the source, the overweight Kardashian male and his 32-year-old pseudo brother-in-law "have been gambling together on football and other sport-related betting."
As RadarOnline.com previously reported, 60-year-old Jenner and Kardashian, 28, reunited last week after a long hiatus from each other when Kardashian brought his new girlfriend, Blac Chyna, 27, to meet his estranged mother.
But, apparently, one life line just isn't enough for the momager!
"Because of Scott and Rob's rekindled friendship, Kris now has another outlet to Rob which is all that she wants right now," the source told RadarOnline.com.
Indeed, she was spotted hanging with Disick in Sonoma on Tuesday.
"Kris is insisting that she be a part of her son's life right now because all of her daughters have, in some form or another, turned on her."
"She really just craves the connection with her son again," added source.
Do you think that Rob Kardashian and Scott Disick are up to no good? Tell us your thoughts below.