Fractured Family! Kylie Vows To Fire Kris If She Doesn't Get Rob In Line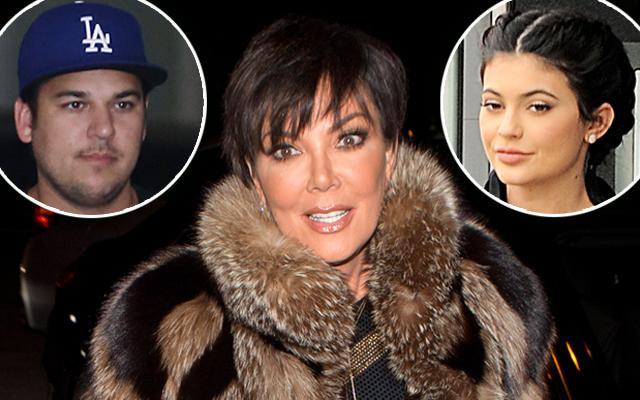 Kris Jenner is the momager in the middle! Her kids Kylie Jenner and Rob Kardashian are at each other's throats, and RadarOnline.com has learned that the feuding could tear the family apart!
"Everyone in the family just feels like Kris is taking Rob's side in this situation," a Kardashian family insider said. But he's made it clear he doesn't want her help.
As RadarOnline.com reported, Kardashian, 28, has been getting serious with Blac Chyna, 27, who is the baby mama to Kylie's 26-year-old boyfriend Tyga.
Article continues below advertisement
Last night, Kardashian slammed his famous family with a shocking Instagram post that said: "When the p***y good but your family don't like her so you drop your family and become an orphan."
According to the source, "Kylie told Kris that she is going to fire her and find different management because she thinks that Kris allowing Rob to post things like this is just ridiculous."
"But Rob and Kris are tighter than they have been in years and Kris refuses to do anything to stop him," said the insider. "She is just really grateful that her son is healthy, happy and has gotten out of his funk."
As RadarOnline.com previously reported, Kardashian recently skipped a birthday dinner held at the momager's house this week in honor of his late father's 72nd birthday, because the 18-year-old plastic princess was also there.
"Rob is Kris's only son and he is the only one to carry on his father's Kardashian name. Because of that, Kris will always choose Rob over Kylie," the source told RadarOnline.com.
"Kris supports his relationship 100 percent and told Kylie to 'deal with it.'"
Do you think Kylie Jenner should let go of her resentment against her brother Rob Kardashian? Tell us your thoughts in the comments below.