Cynthia Rips Kenya For Rumors About Kim's Man: 'You Don't Have Facts'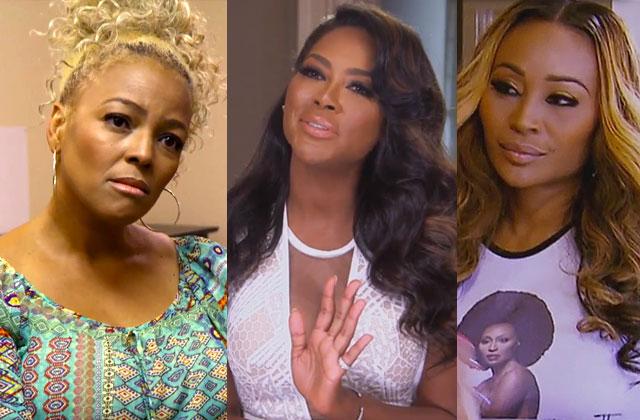 The drama between Kim Fields and Kenya Moore is about to explode, and Cynthia Bailey is not happy about it.
In the upcoming episode of Real Housewives of Atlanta, Moore, 45, spreads rumors that Fields's husband Christopher Morgan may be gay.
"I know yall have heard the rumors," she said in a preview for the new episode. "They call him Chrissy… For the last 10 years, there have been pervasive rumors about Kim's husband. Whether it's Tutty and Fruity or Kim and Chrissy, they exist."
Article continues below advertisement
"I definitely feel bad for Kim in that situation because my husband, there are always rumors and people talking about Peter as well, so I've been in that seat before and it's not a fun seat to be in," she explained.
As RadarOnline.com previously reported, Fields and Moore got into a major battle after Bailey chose to use Fields to film her commercial over Moore.
But Bailey claims that she is confused as to what started the drama between Moore and Fields in the first place.
Article continues below advertisement
"Kim and Kenya were friends when Kim came onto the show, so I don't really know when and where it all went left," she said.
Bailey also didn't expect for such immature arguments to unfold on the trip.
"In terms of the commercial, I didn't really realize how bad tensions where with them," she admitted. "I didn't think it was that bad. There's always tensions when there are two of the girls, so that's not a surprise."
But then the RHOA fireworks shot off .
"When I sat them down one-on-one in Jamaica to talk about the commercial and I made my decision to go with Kim, I realized just how bad things were," Bailey explained. "By the time we got to Jamaica, it was really in a dark place."
Bailey had to excuse herself as best as she could to avoid getting trapped in the middle of the fight.
"I had to stay focused on the commercial," she said. "I couldn't let it take over what my goal was in Jaimaca. I was there to do the eyewear commercial."
Be sure to tune into Bravo on Sunday at 8 PM ET to find out how this battle unfolds.