Kim Fields Disses Kenya Moore For Gossiping About Her Husband Christopher Morgan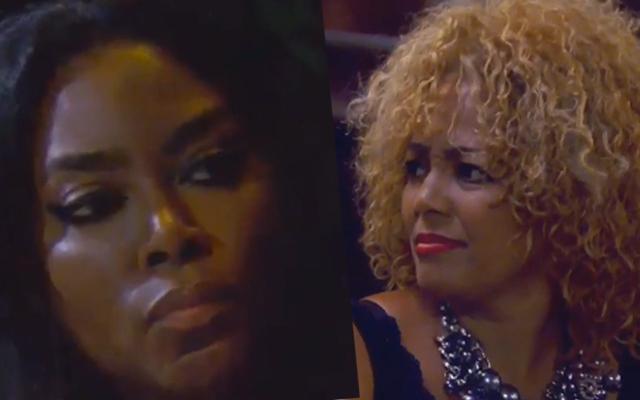 Kim Fields finally called Kenya Moore out for the comments that she made about her husband, Christopher Morgan, during the girls' group dinner date on Sunday night's episode of The Real Housewives of Atlanta.
The drama between the two escalated when Moore decided to question Fields on the rumors she heard about Fields' husband being gay as the ladies attempted to enjoy their party to celebrate Cynthia Bailey's commercial.
Article continues below advertisement
"Have you ever heard those rumors before about him," Moore questioned Fields, to which Fields replied, "No."
"I don't think we really care either way if your husband is gay or whether or not you guys are having tax problems or any other kind of problems," Moore continued, taking a dig at reports about Fields' tax issues.
She added, "You portray like everything is perfect. It's not really perfect. We just want the real Kim Fields to show up."
Fields didn't say too much to Moore during their run-in during the celebration party. But after receiving some detailed reading lessons from NeNe Leakes and Phaedra Parks, she was ready to take on her nemesis during the girls' dinner following their group outing in Jamaica!
While chatting about their men and friendships, Leakes let Moore know that Fields had a few questions about why their relationship is so rocky!
Article continues below advertisement
Fields went on to tell Moore that she was "not going to talk about" her family and she simply wanted Moore to respect her even if she doesn't like her.
"I don't hate you. I'm indifferent to you," Moore replied to Fields' comments. She added that she wasn't too pressed to work on their issues and wasn't "willing to spend any more effort" on figuring out their problems.
However, when it came to her decision to pull Fields' chair during their fight ahead of the commercial shoot, Moore did apologize to Fields for her actions.
During the rest of the episode, Kandi Burruss and Todd Tucker continued to make plans for their new restaurant. The RHOA guys continued to bond during their Jamaica getaway. And Bailey addressed her issues with Moore over her commercial shoot.