Cynthia Claims Kenya Is 'Important To Me'—But Still Won't Call Her BFF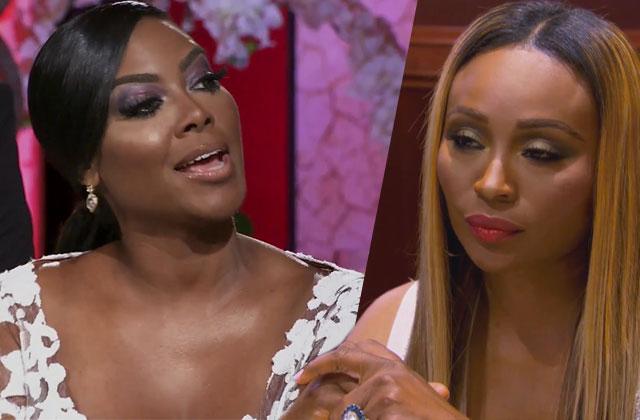 On the last episode of Real Housewives of Atlanta, Kenya Moore and Cynthia Bailey got into a fight after Bailey denied to NeNe Leakes that Moore was her best friend.
The drama continued when Moore, 45, tried to confront Bailey, 47, about her hurt feelings, but the conversation ended on not so good terms.
Now, looking back at the situation, Bailey isn't happy with how she handled her conversation with Moore, but she maintains that her costar still isn't her "bestie.
Article continues below advertisement
"Going back to Jamaica, I think the whole besties battle got blown out of proportion," she told OKMagazine.com.
"If that conversation had been had, if NeNe wasn't there, maybe it would have gone a little differently."
"Looking back on it, in that moment, I should have been more clear about how important Kenya is to me in my life because I do value her as a friend," she continued.
But Moore claims that friendships blossom in different ways.
"I am great friends with Kenya and I am still getting to know Kenya," she explained. "All my friends are different. Some are an open book and get to know a little quicker, and some people take a little more time."
Bailey has never used the "besties" term before though in reference to Moore.
"I have never referred to Kenya as my best friend or my bff," she said. "And I don't believe she has ever referred to me as her best friend or bff."
Article continues below advertisement
According to Bailey, they are just good friends.
"No, I don't think I am her best friend, she's not my best friend," she said. "But we are great friends."
As for her friendship with Leakes, 48, it took Bailey a long time to mend the broken bridge.
"The last time the fans saw NeNe and I was when she had a breakdown and I went to check on her," she said. "That whole moment opened up just a door for us to be cool again. She texted me after the reunion, thanking me for checking on her. From there, a text here and there."
"We took our time to get back to where we are now," Bailey said. "NeNe and I, I think the time—two years apart—really gave us both time to just take a break and just reevaluate our relationship. We just kind of picked up where we left off. I'm glad to have her back in my life and I think she's glad to have me back in hers.
Be sure to tune to Bravo Sundays at 8 PM ET to catch new episodes of RHOA.