A Burned-Down House & Distant Dad: Jenelle's Mom Reveals Claims About Her Horrible Childhood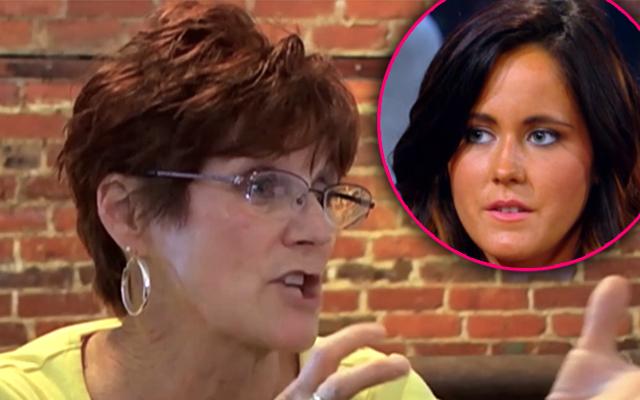 Jenelle Evans's struggles as a single mom are nothing compared to what her mother says she endured as a child! The Teen Mom star's own mom, Barbara Evans, told RadarOnline.com that her distant dad and other childhood traumas made life for a young Jenelle very difficult.
"Jenelle hasn't seen her dad, Robert Evans since she was 11 ... None of my kids have seen him since we moved to North Carolina in 2004," Barbara told Radar during an exclusive interview.
Article continues below advertisement
Robert, 67, initially made the choice to distance himself from his kids, Barbara, 62, claims.
"Previous to that he lived in town in Scranton, PA, where Jenelle spent part of her childhood and he was still wasn't a part of their lives," Barbara claimed. "That was his own choice. His own choice was not to see his children."
The last straw, she said, was when Robert didn't help out his family in their time of need.
"Our house burned down in 2000," Barbara revealed. "We lived in a hotel for six months. Me and my three kids had to live at the Marriott Residence Inn in Scranton."
"My ex-husband did not offer my kids a pair of underwear, didn't offer clothes, didn't offer us dinner, didn't offer us a place to stay," she continued. "When we had that fire, and he didn't offer my kids anything, not a meal, not a sandwich, not a crumb of food, or clothes, that says it all right there."
Article continues below advertisement
So after that, Barbara claims she kicked Robert out of their lives for good.
"When there is a fire and nobody even acknowledged we were alive, it was like he could give a crap if we were dead or alive, then I said, 'I don't want nothing to do with you,'" she noted. "What comes around goes around. It will all come back to him later on in life."
And looking back, Barbara doesn't seem to have any regrets about the choices she made.
"Anybody can say what they say about me, but you know what, I raised my kids alone, and that's how it is," she concluded.
As Radar previously reported, Evans recently blogged about how her father disappeared from her life when she was a young child.
"I don't what happened in the past, everyone has a past but everyone can change," she wrote. "I know he loved his kids and if he didn't he wouldn't have tried to be in our lives in the first place. Some questions sometimes are best unanswered."