'At War Now!' Teresa Giudice & Jacqueline Laurita Battle 'On Camera'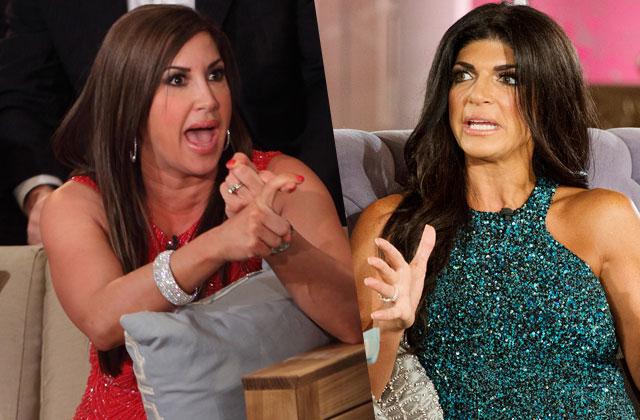 Teresa Giudice has barely been out of prison a month now, and the drama in her life is already heating up!
RadarOnline.com can exclusively reveal Giudice, 43, got into a major battle with her Real Housewives of New York City costar Jacqueline Laurita, 45, on Dec. 22.
"Jacqueline and Teresa had a big fight on camera Friday night," a source close to production told Radar.
According to the source, "Teresa is the one who started the fight."
Article continues below advertisement
"She approached Jacqueline first," the source said. "Teresa was insinuating that Jacqueline was calling her friends and new cast members to make friends with them while she was jail."
Jacqueline didn't appreciate the confrontation.
"It escalated into a huge fight," the source noted.
After arguing about allegiances, the fight turned into a debate about Giudice's legal problems.
"The fight was about who was phonier and whose fault it was that Teresa went to jail," the source said. "It was the fact that Teresa is still blaming everyone else for her legal problems and Jacqueline thinks Teresa is in denial."
"Jacqueline's like, 'Every week it's somebody else you're blaming,'" the source continued. "Teresa was still screaming, 'We had nothing to do with it. I shouldn't have had to go to jail.' It was everybody's fault."
After that, the battle turned to the topic of Giudice's relationship with Melissa Gorga.
"Teresa was making this big insinuation that her and Melissa are close again," the source explained. "It makes Jacqueline mad. It's a big scam that Teresa and Melissa are so close. It's all a big lie just for the cameras."
MORE ON:
Jacqueline Laurita
Article continues below advertisement
"Jacqueline was suggesting that it's Melissa and Teresa's relationship not real, that it's all fake and basically that Teresa is fake and doing it for the public," the source said.
At that point, Giudice threw a fit and was done.
"They fought about everything and it lasted 45 minutes," the source said. "Then Teresa flipped out and stormed out of Jacqueline's house."
Giudice and Laurita are no longer speaking.
Another source close to Giudice denies that the fight ever happened, but the source insisted, "They are at war now."
And producers of RHONJ are still going to make them film together again.
"This is the big storyline," the source said. "This is who is going to fight: Jacqueline and Teresa."
"There hadn't been any drama yet," the source added. "Nobody was bringing it, not even the new girls. So this is finally the drama. It's a real fight, but it was all in front of the cameras."