Desperate Measures! Kris Offers Troubled Son $1 Million To Enter Rehab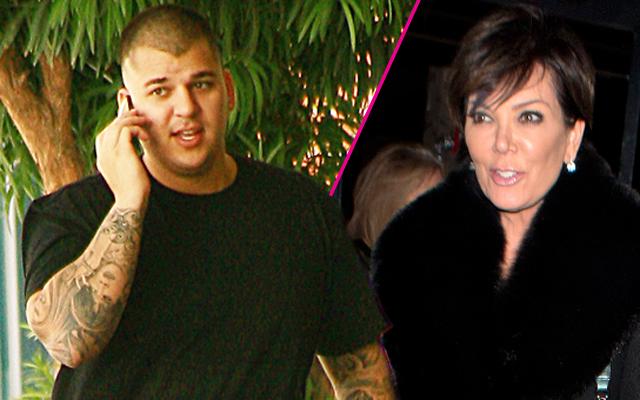 Rob Kardashian has shut everyone out after being rushed to the hospital last month, but RadarOnline.com has exclusively learned that momager Kris Jenner is trying to buy her way back in!
According to a source close to the Keeping up with the Kardashians clan, in the hopes of saving her son's life, the 60-year-old family matriarch has offered her him $1 million to enter rehab.
"She thinks that one way to get through to him might be by using money," an insider claimed.
Article continues below advertisement
But she's not just focused on getting him healthy.
"Kris looks at Rob's health crisis as a potential storyline for the show," the insider said. "She wants him to let cameras inside of his struggle because she believes that his downward spiral would make for great ratings!"
"But there is a catch," said the source. "She told him that in order to get the money, he must check in to treatment when the show is on hiatus."
As Radar previously reported, Jenner chose to stay on vacation in St. Barts with her boytoy Corey Gamble instead of returning to Los Angeles to be by Kardashian's side when he was first hospitalized.
SHOCKING PHOTOS: Monster Momager Kris Jenner On Vacation While Son Rob Is Sick
"Kris still has not seen her son in person," the source told Radar Monday.
"However, she has ordered a private chef for him, as well as a team consisting of a psychologist, nutritionist and therapist."
"She has basically done everything except for actually going to deal with his situation in person."
Do you think that Rob Kardashian should accept Kris Jenner's offer? Tell us your thoughts in the comments below.