Exclusive
Saving Rob! Kris Jenner Considers 5150 Hold For Son Kardashian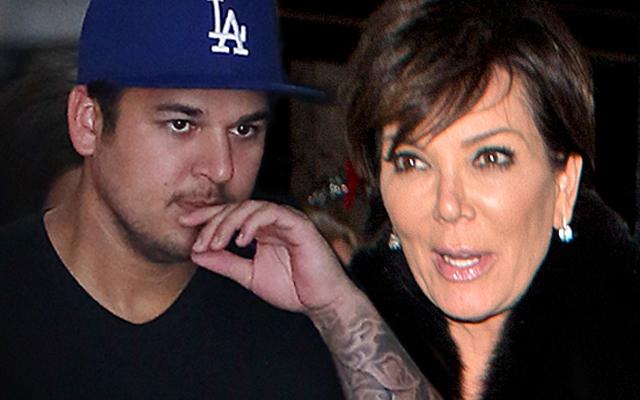 Keeping up with the Kardashians outcast Rob Kardashian has refused his mother Kris Jenner's latest request to check into rehab, and insiders tell RadarOnline.com his situation is growing more dire by the day. Now, as the 28-year-old's health continues to decline following his recent hospitalization, RadarOnline.com has exclusively learned that the Kardashian family matriarch wants to take extreme measures to save her ailing son by getting a 5150 hold!
Article continues below advertisement
"Kris has said she would potentially try to implement a 5150 involuntary psychiatric hold on Rob, because some of the Kardashians feel that his life could be in danger right now," a source close to the family said.
Indeed, the only son of the late Robert Kardashian Sr. was recently diagnosed as diabetic. But instead of using this as a turning point to get his health back on track, insiders told RadarOnline.com that he has continued with bad habits like guzzling Red Bull and chowing down on junk food.
MORE ON:
Keeping Up With the Kardashians
According to the source, "Rob seems to feel like he is now defeated and that there is nothing that anyone can do or say to change that right now."
As RadarOnline.com previously reported, the overweight former reality star has been holed up in his 31-year-old sister Khloe Kardashian's home and has been ordering unhealthy food, including pizza, burgers and fries.
"He has refused Kris's offer of $1 million to get the help he needs," the source told RadarOnline.com. "He has also refused to let her give him a team of psychologists and therapists."
"What is even worse is that he is no longer even opening up to Khloe anymore," the insider added.
"This is a huge red flag and they all feel that if something is not done right away, that Rob will die."