Mama Joyce Confronts Phaedra Parks Over Her Friendship Issues With Kandi Burruss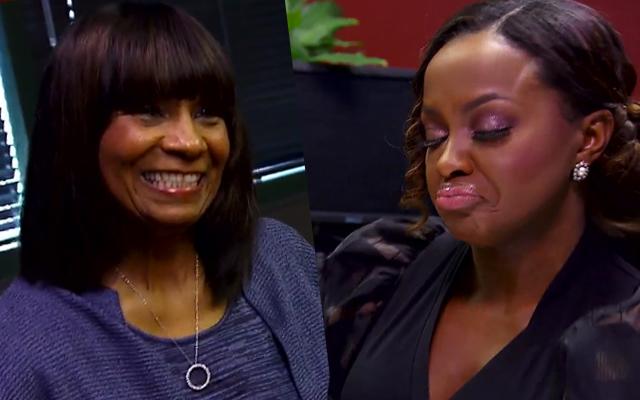 Mama Joyce and Phaedra Parks had a bit of a tense meeting during Sunday night's episode of The Real Housewives of Atlanta as the two attempted to address Parks' growing feud with her daughter, Kandi Burruss.
Mama Joyce first revealed her interest in speaking with Parks while chatting with Burruss about the former besties' latest issues. And after somewhat getting her daughter's permission to address the drama, Mama Joyce made a surprise visit to Parks' office for a brief chat!
Article continues below advertisement
After warmly greeting each other, the two got straight to business.
"So what brings you by today?" Parks asked.
"Well, I was wondering what happened with you and Kandi?" Mama Joyce replied. "Because ya'll were always so close."
"You know I went through hell last year. And I just had so much going on. We just had a misunderstanding, and that happens in relationships. But we're on the right track now," Parks explained to Mama Joyce.
In her confessional, Parks admitted that she really wasn't too interested in discussing her issues with Burruss with Mama Joyce. However, she continued her chat with Mama Joyce as Burruss' mother continued her investigation into what happened between the two.
"You and Porsha Williams was saying some things," Mama Joyce said.
"I think DonJuan Clark came over and sort of blew things out of proportion a little bit. But nothing was going on. You know, nothing crazy," Parks answered.
Article continues below advertisement
But despite Parks' claims that the drama had been handeled, Mama Joyce continued to stress that her pregnant daughter's well being was her biggest concern when it came to Burruss' issues with Parks.
"With this pregnancy, because it's kind of a high risk, I just don't want her to get stressed out or be emotionally unbalanced about anything," Mama Joyce said. "Because I don't want Kandi to have any problems."
Parks agreed, saying that she also didn't want Burruss to have any pregnancy troubles.
Mama Joyce added that she "would never want anyone to do anything to hurt" Burruss or "cause her to be upset in any way." But Parks reassured her that there would be no trouble between them, with Mama Joyce going on to reveal that she was hopeful the former friends would finally work out their issues!
But to her surprise, Mama Joyce's visit was actually about more than Parks' broken friendship with Burruss, with Joyce requesting Parks' help with an upcoming baby shower she was planning for her daughter. And with her knowledge of how to put on a stellar party, Parks quickly agreed to take on the task!
During the rest of the episode, Todd Tucker and Parks met one final time about the missing payment she owed him for the workout video he produced for her.
Kenya Moore attempted to meet with her mother during a trip to Detroit, Michigan, for a family reunion she organized with the help of her father. And Williams butted heads with her sister Lauren Williams over Lauren's pregnancy!