Kandi Burruss Disses Porsha Williams Over Her RHOA Feud With Phaedra Parks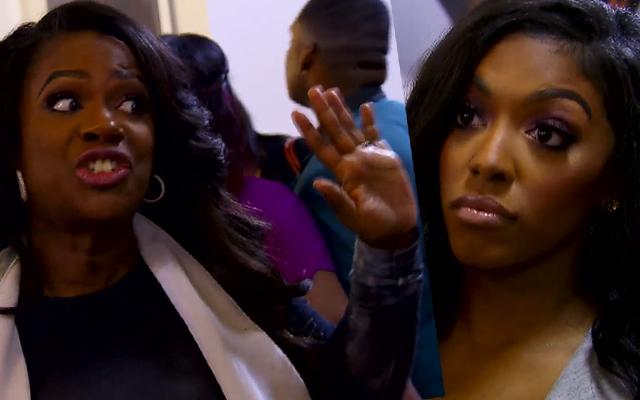 The drama between Porsha Williams and Kandi Burruss continued during Sunday night's episode of The Real Housewives of Atlanta as the two found themselves wrapped in another argument over Burruss' feud with Phaedra Parks.
Williams attempted to be cordial when she entered an event being held for Cynthia Bailey's eyewear line. But the tension began to grow once Williams received an icy greeting from Burruss' friends DonJuan Clark and Carmon Cambrice, who were also in attendance at the party.
Article continues below advertisement
Williams chatted briefly with Kim Fields before asking Burruss if she could speak with her privately about her recent run-in with Clark over comments she made to Parks about Burruss and her husband, Todd Tucker.
"I really don't know what to say about my friendship with Porsha. I don't know who I'm dealing with at this point," Burruss said in her confessional. However, when Williams approached her about talking privately about their issues, Burruss said she was willing to talk to her castmate.
"Shamea Morton came and she told me a couple of things. I just want to make sure we're good and just kind of talk about some of the things that she was saying," Williams said before asking if the two could speak "maybe off to the side or whatever."
However, as the two stepped away to the corner of the room, Clark and Cambrice followed right behind their bestie.
"I don't think they need to have a conversation with me not apart of it because she's gonna say some lie," Clark told Kenya Moore and Cambrice before walking over to Williams and Burruss.
Article continues below advertisement
"I'm just chatting with her real quick," Williams told the duo as Burruss chuckled at her friends. Burruss went on to say that Clark actually wanted to apologize to Williams for their "conversation getting crazy" at the video release party she hosted with Demetria McKinney.
Clark offered his apology for how he approached Williams and Parks at the event, However he added that he stood by his opinion on the conversation that pushed him to call out the two RHOA ladies.
"But my stance as far as how I felt about how the conversation went, I don't apologize for that because I wouldn't want that to happen to you if it was your friends," Clark said.
In her confessional, Williams said she thought his apology was fake. But she added she was willing to accept it in order for him to "shut the h—l up!"
"I'm not one to hold grudges, so I do accept that," she told Clark.
She then asked Burruss again if they could talk privately. "Like I said, I really don't want to have this conversation in front of your friends," Williams said.
Article continues below advertisement
But Burruss wasn't having it, saying that she wasn't leaving her friends out of the chat.
"Well we don't have to have this conversation. But don't expect no extra push from me. No extra s—t from me," Burruss said.
"Well we don't have to have it at all then," an annoyed Williams replied to Burruss.
Morton tried to get Williams to stick around, but Williams stormed out of the event.
Outside the party, Williams explained to Morton that she didn't understand what she did to Burruss to make her dislike her. And she even had a brief argument with Cambrice before deciding to leave.
Elsewhere during the episode, Williams attended the Emmys as she kicked off her search for a new assistant.
Tucker and Parks finally had a chat about the money he said she owed him for a workout video he produced for her. And Moore caught up with her dad and had an emotional heart-to-heart with him about her issues with her mom and desire to bring her family back together.