Exclusive
Commander-In-Blow? New Book Rips Lid Off Jeb Bush Cocaine Scandal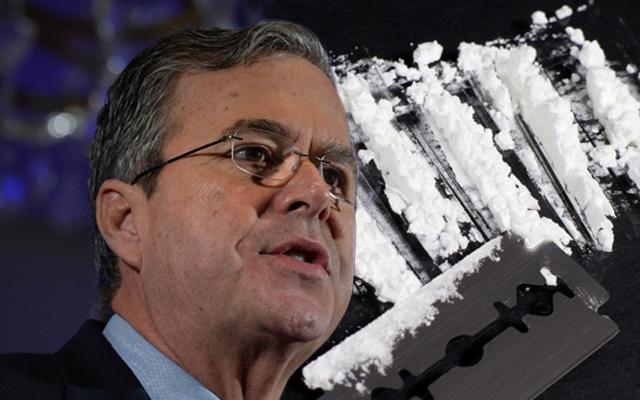 Jeb Bush was a secret cocaine abuser who even celebrated his dad's presidential election by snorting coke with a top GOP official, RadarOnline.com has exclusively learned.
That's the stunning claim by former White House aide Roger Stone, whose bombshell new book rips the lid off Bush's shocking secret life.
Jeb! And The Bush Crime Family, due to hit Feb. 16, is co-authored by Saint John Hunt, the son of E. Howard Hunt, the man who organized the bugging of the Democratic headquarters in the Watergate.
Article continues below advertisement
In one shocking passage, Stone wrote: "Jeb had snorted lines of cocaine at the vice president's residence at the Naval Observatory on the night of Vice President George H.W. Bush's election to the presidency."
"A prominent Tallahassee lobbyist told me he had also snorted coke with Jeb Bush, which the then-Florida governor said he did largely out of boredom with the slow pace of the state capital," added Stone.
Stone pointed out in the book that there are also allegations Bush, 62, once smuggled cocaine into Florida.
"Legendary CIA drug smuggler and pilot Barry Seal claimed to his Miami lawyer Richard Sharpstein that he had orchestrated an elaborate sting at the Opa-locka airport in which the DEA got videotape of Jeb and his brother George W. Bush bringing a kilo into Florida for resale," wrote Stone.
Stone, a best-selling author who worked for President Nixon, claimed that while Jeb publicly supports the War on Drugs, he secretly used and abused drugs for years.
"Jeb's conservative stand on drugs is perhaps his most hypocritical position of all," Stone wrote. "As a heavy dope smoker and even a dealer in prep school and college, he started out early on a path many young people do. But what makes him a phony is his tough stance against drugs as an elected official and a politician…"