'Teen Mom' Farrah's Pain: Her Late Baby Daddy's Stepmom Reveals Secret Reunions With Sophia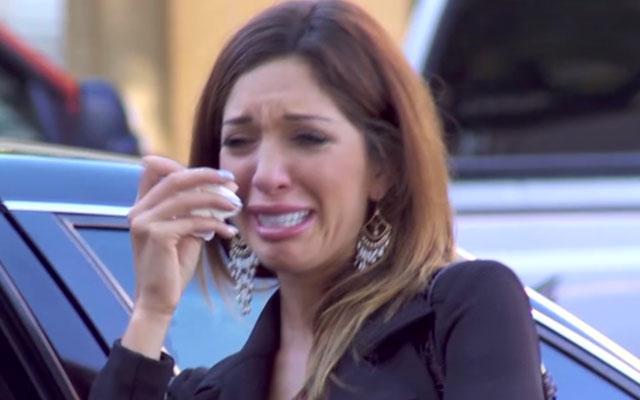 On her hit reality series, Farrah Abraham often comes off as hostile and combative with her mother, boyfriend, MTV producers and even her fellow Teen Mom OG costars.
But during this week's episode, the 24-year-old mother of Sophia, 6, showed a much softer side as she visited her late baby daddy Derek Underwood's grave and grieved with his family on a trip to his native Missouri.
The heartbreaking tears and loving gestures toward her daughter and late boyfriend are indicative of the former sex tape star's real personality, Derek's stepmother Debra exclusively tells RadarOnline.com.
Article continues below advertisement
"Farrah is very loyal," the St. Joseph resident, 57, told RadarOnline.com in an exclusive interview, explaining that the star has kept Derek's father Jerry, 49, involved in Sophia's life since her 2009 birth. (Derek died in a car accident just two months before his daughter was born.)
"Every three to six months, Farrah visits us so Sophia can get to know her grandparents," Debra said. "She's always been very dedicated to that. She wants Sophia to know our side of the family. I have two daughters, they get together with her as well."
The family will often meet up at a restaurant and then head to a nearby park to play, Debra revealed.
PHOTOS; Sexy Mommy! 'Teen Mom OG' Star Farrah Abraham Gets Festive In Las Vegas — 8 Photos Of Her Birthday Suit!
Though Sophia seems outspoken and sassy onscreen, she's often much more shy during the many off-camera visits.
"She starts to loosen up when she's playing games," Debra added.
Unfortunately, Farrah doesn't get along with all members of Derek's family. She famously feuded with Derek's mother, Stormie, and even took her to court to prevent her from visiting Sophia.
"We don't get involved with the drama," Debra claimed. "We just live in a small town in Missouri. When Farrah calls, we're here."
"I think if you treat Farrah with respect, she treats you with respect."
In between visits, Debra and Jerry watch Teen Mom OG for glimpses of Sophia.
"It's always such a pleasure to see Sophia on TV," she gushed. "That way, we get to see her once a week!"
And though Farrah and Derek were broken up during the latter part of her pregnancy, the 18-year-old was ready for fatherhood before his December 2008 death, she insisted: "Derek was excited to be dad, and planned to be in Sophia's life, no matter what. He told us that."