'I Don't Want You To Be A Drug Addict!' Charlie Sheen's Daughters Finally Tell All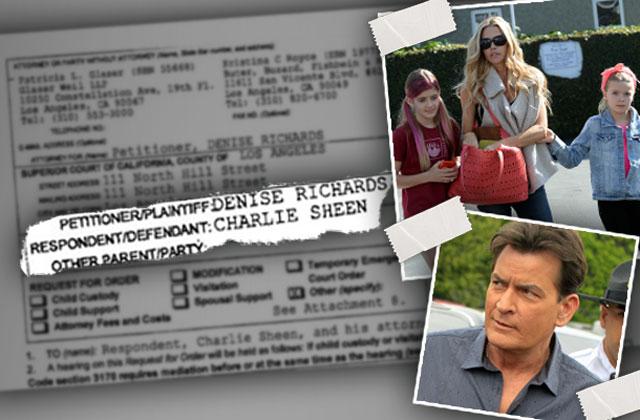 Denise Richards and Charlie Sheen's "scared" and "hurt" daughters, Sam and Lola Sheen, are finally sharing their side of their parents' nightmare battle — and only RadarOnline.com has all the details.
Sam, 11, and Lola, 10, opened up about their tumultuous world in heartbreaking letters filed as part of the ongoing legal dispute between Richards, 44 and Charlie, 50, involving Sam and Lola's trust fund.
Article continues below advertisement
As RadarOnline.com reported, Richards is asking a Los Angeles judge to force Sheen to either put $7 million in cash into their daughters' trust fund, or purchase a home of equal value, after the actor sold the Mulholland Estates mansion that had been titled to Sam and Lola's trust account.
Sam's letter was written on January 13, 2014, after Sheen was accused of not allowing the girls to open their Christmas presents.
"I don't understand why you are so angry. It hurts my feelings that you won't even let me open some gifts, unless its at your house," she wrote. "I am scared to tell you how I feel because I am afraid of how you are gonna react. Why isn't Mom allowed at your house anymore? She is always nice to you and she is always there for you."
According to the court documents, Sheen had sent a very disturbing text message to the girls, which allegedly said, "Tell mom to go eat pork and die...yure mom is a loser...c u all in the f**king gutter," which Sami addressed in her letter.
Article continues below advertisement
"Why on earth would you send those texts? Why would you say 'tell mom to eat pork and die??'" she wrote. "It's very hurtful what you said just through some texts. And you don't even relies sic what it does to me. How it effects me. That's the reason I didn't go to school today. I was so upset. Just because you apologized, for the texts, and how rude you are to mom, it doesn't mean everything is fine."
"It's not fair to me, Mom, or Lola," she continued. "I don't like the way you act and it really hurts my feelings and mom's feelings...I don't like how you are always constantly bringing up how much the house is that you bought for us. It doesn't matter how much it costs! I am very disappointed in you."
Tragically, she begged, "I don't want you to be a drug addict. It scares me and I don't want anything to happen to you. And I love you very much, xoxo Sami."
Article continues below advertisement
Lola's letter is even more disturbing, as she laments wishing to return to her former school, Viewpoint. As RadarOnline.com reported, Sheen infamously went public with a bullying issue Lola was dealing with while a student there. The school faced intense scrutiny after Sheen encouraged fans to send feces to the school principal, and she eventually left.
"And why would YOU SAY THAT YOU WANT MY MOTHER TO EAT PORK AND DIE. I can't believe you said all these mean things to my mom," she wrote in the letter. "You are the reason why im not in the school I want to be in wich (sic) is Viewpoint! And now I can never go there again. And you are trying to take me to yoor house. I don't even have any friends at my new school. I miss my OLD ONE! Love, Lola"
A court hearing has been scheduled for February 22.