Daddy's Girl! Inside Teresa's Emotional Reunion With Her Estranged Father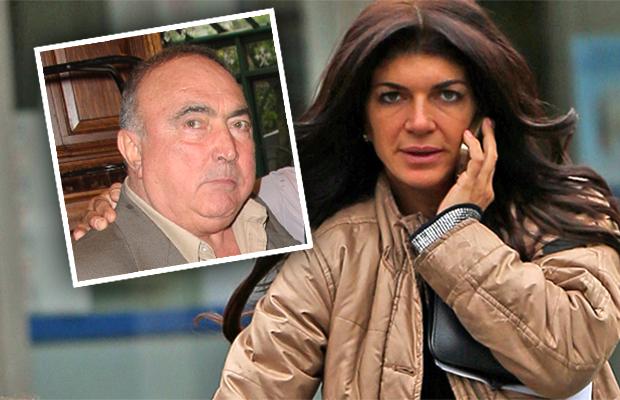 Just days after her prison release, Teresa Giudice is already healing family bonds that were shattered by her felony conviction. Her own father, Giacinto Gorga, had refused to visit her in prison, but RadarOnline.com has learned that all was forgiven when they had a tearful reunion.
After Teresa, 43, arrived home at her mansion from prison on December 23, "For the first half hour, it was just the kids and Joe," an insider told Radar. "The family wanted to give Teresa time with the kids before coming over."
Article continues below advertisement
But not long after, her parents Giacinto and Antonia Gorga arrived, and "Teresa immediately burst into tears," the source said. "It was the first time she saw her father since she went to prison in February. Giacinto had refused to visit, because he said he didn't want to see his daughter locked up behind bars."
Bravo cameras were filming the touching reunion, of course, and Teresa certainly provided an emotional performance.
"Teresa's biggest fear while locked up had been that something could happen to her parents while she was inside," the source explained. "And there was genuine concern that Teresa would never see her father again, because he has been suffering from several ailments. He is getting older and Teresa was just so grateful to be able to hug her dad again."
Meanwhile, Teresa's husband Joe, 43, and their four daughters, Gia, 14, Gabriella, 11, Milania, 9, and Audriana, 6, "are just over the moon that they got to spend the holiday with their mom," the source said.
Proclaiming the reunion with her parents to be "a Christmas miracle, Teresa just couldn't stop smiling all day," the insider added. "No one is talking about Joe's upcoming prison surrender. They are just living in the moment."