Porsha Williams Disses Kenya Moore, Reveals She Doesn't 'Trust' Her During Wild Argument Over Cynthia Bailey Fight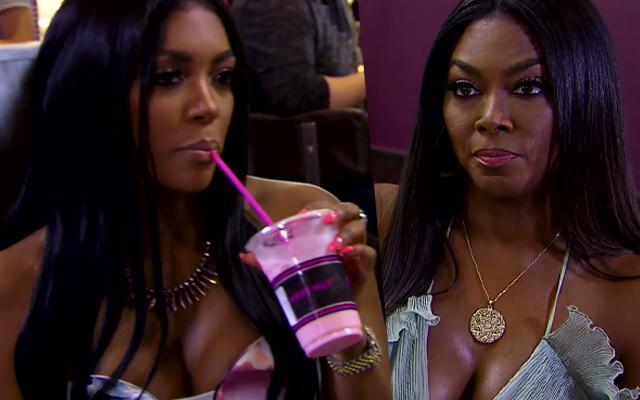 Following her dramatic fight with Cynthia Bailey during The Real Housewives of Atlanta ladies' group boat trip, Porsha Williams faced another shady battle on Sunday night during her meeting with Kenya Moore about the unfortunate incident.
As they began their talk, Williams said she "was upset that the day started so positive" and quickly took a negative turn once the fight started. However, Moore immediately chastised Williams for failing to take responsibility for her own actions that helped spark the physical altercation.
Article continues below advertisement
"It really doesn't matter how things started, it's how you deal with the situation," Moore said. "I just feel like out of all of the other girls, I have a perspective that no one else can have because we had a situation before in a heated debate. And things turned physical. And I'm only really here because I want to, if I can, help you in any kind of way."
In her confessional, Williams admitted that she was "totally expecting Kenya to give me one of her pageant speeches." She added that she had no idea why Moore felt the need to offer her opinion on her issues with Bailey, seeing that she had "nothing to do with" the fight!
Moore accused Williams of instigating Bailey's attack when she went to talk to her castmate after the Bailey walked away from their initial argument. "From my perspective and what I saw, I saw you straddle her. That resulted in violence," Moore said.
But an annoyed Williams had no time for Moore's comments about how she felt she should have acted, telling her that she really didn't want to hear anything she had to say about the matter.
Article continues below advertisement
"I don't need you to speak to me like that because, for one, I don't trust you," Williams said bluntly. And when Moore claimed that she was "insulted" by the statement, Williams again slammed her RHOA nemesis!
"No! Me saying I don't trust you is just my personal theory," Williams said.
"It's unnecessary," replied a visibly frustrated Moore. She then added in her confessional, "I'm not the one whose ever attacked anyone. I'm not the one whose ever been in a physical altercation."
Williams continued to express her trust issues with Moore, though, telling her castmate that her advice about the fight carried no weight since they aren't friends.
"If I was talking to a friend, this conversation wouldn't feel the way it feels right now. Right now I'm feeling like you're telling me and talking at me, 'You did this, and this how you behaved in the past.'"
"Those are facts, though," Moore fired back at Williams. "I'm not saying anything that isn't a fact."
Article continues below advertisement
"You don't have any compassion for me, and I know that," Williams retorted.
Moore claimed that she did indeed have compassion for Williams and that Williams was being "hostile"with the delivery of her points during their chat. The duo continued to battle over the details of the fight before Moore changed the topic a bit, simply encouraging Williams to set aside her differences with Bailey. And in a positive twist, the two wrapped their heart-to-heart with a few laughs and Williams sharing that she would possibly consider forgiving Bailey!
Williams and Moore weren't the only ladies talking about the altercation on the boat, though! Kim Fields met up with Phaedra Parks to update her on all the drama that happened during the boat trip.
Parks also offered a look into her life as a single mother and revealed how her two sons, Ayden and Dylan, are holding up as their dad, Apollo Nida, serves his prison sentence.
Kandi Burruss had a little scare during a visit to her doctor to check on the progress of her pregnancy. Moore also hosted a brunch for the RHOA ladies, where Williams and Bailey agreed to set aside their issues and Burruss took a dig at Moore over her sometimes questionable behavior!
You can catch the latest episode of The Real Housewives of Atlanta at 8 p.m. EST on Bravo!