Phaedra Parks Confronts DonJuan Clark Over RHOA Feud With Kandi Burruss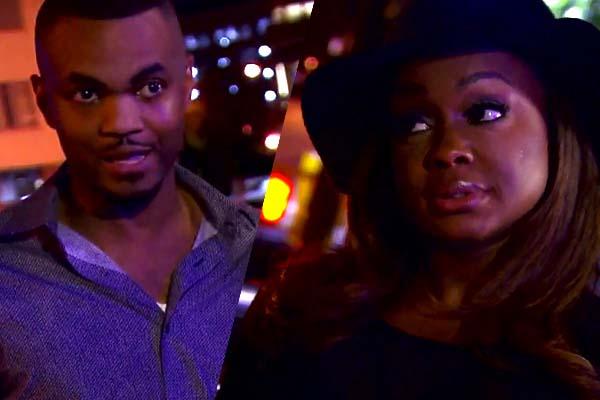 The drama between Phaedra Parks and Kandi Burruss spilled over to the singer-songwriter's best friend DonJuan Clark when he confronted Parks over her issues with Burruss during Sunday night's episode of The Real Housewives of Atlanta.
The duo's showdown happened at the release party for the video Burruss shot with Demetria McKinney for their new duet, "Unnecessary Trouble." The RHOA ladies were all in good spirits at the event, with Parks going so far as to ask Burruss' husband, Todd Tucker, if they could talk about their disagreement over the money Tucker said Parks owed him for an exercise video he produced for her.
Article continues below advertisement
However, Parks' chat with Porsha Williams and Shamea Morton about her talk with Tucker proved to be an unexpected point of conflict!
"It was nice seeing everybody," Williams said as the girls caught up outside the venue.
"Yeah, I even got to talk to Todd, which was nice since Todd was having the major issues with me about my pregnancy video that I did with him the day before having the baby," Parks told her friends. Parks added, "So I invited him to come see me at the office so we will figure out what that's about."
Tucker told Burruss during the party that he was glad to have the chance to speak with Parks at the event even though it slightly caught him "off guard." And Burruss assured him that they appeared to be "good."
But even though she applauded Parks' decision to speak to Tucker, Williams couldn't hold back her feelings about their feud.
"So he's holding hard feelings like this whole time?" Williams continued to press her friend. "What kind of problem does he have?"
Article continues below advertisement
"I don't know," Parks replied. "He got all the money."
Parks added that she didn't release the video and that she paid Tucker $30,000 for the film.
Morton questioned if Tucker actually received his payment for the video. But Parks insisted that she did write the checks and "they cashed."
Parks went on to tell Williams and Morton that she was "cool" with Burruss. But that statement didn't convince Burruss' bestie Clark — who had been listening to the girls' conversation — that all was okay between Parks and Burruss. And he swiftly joined the RHOA ladies to give the girls a piece of his mind.
"Hello, pretties," Clark greeted them before jumping to the point. "I heard the gossip about my people so I had to come over here. I didn't know what the h—l was going on."
Williams denied that they were gossiping about Burruss and Tucker, but Clark continued to blast the girls. He added that he heard that there was some talk about Parks and Burruss' "friendship being broken by money" but in reality he believed "it was a lot more than that that broke a friendship!"
Article continues below advertisement
Parks remained fairly silent during the confrontation, with Clark and Williams doing most of the arguing. And Parks eventually became so annoyed with the situation that she walked away from Clark. However, he made sure to toss a few more digs at Williams as the ladies made their exit!
During the rest of the episode, Kenya Moore enjoyed a date with a new suitor, and Kim Fields had a chat with her sister. Cynthia Bailey attempted to continue to repair her relationship with Peter Thomas, with her sweetie treating her to a romantic date in the park.
Parks also broke down over her son Ayden's first day of kindergarten and had a heart-to-heart with one of her estranged husband Apollo Nida's close friends.