Leah Messer Toasts Twins' Birthday Alone With Glass Of Wine, Gives 'Kisses From Miles Away'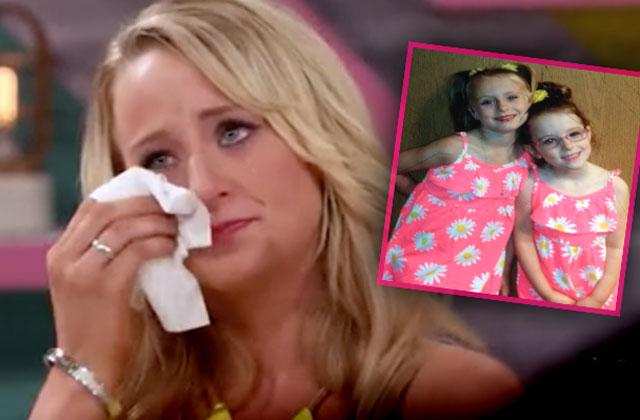 Leah Messer's twins turned six years old yesterday, but sadly, the Teen Mom 2 star was unable to celebrate the milestone with her beloved daughters.
The 23-year-old mother of three, who as RadarOnline.com reported, lost primary custody of Aliannah Hope and Aleeah Grace to their father, Corey Simms, in October, posted a touching tribute to her oldest kids in their absence.
"These precious little girls have been the reason I've held it together through it all, the good and the bad. I don't know where I would be without them!" she captioned a sweet photo of the two girls by the Christmas tree on her official Facebook fan page. "Mommy will never forget that feeling when Dr. Hunter placed you on me at 8:09 and 8:10 NOW 6 years ago. My heart for the first time skipped a beat and I knew what true love really was at that very moment! I'm so blessed to call you both my daughters."
Article continues below advertisement
Since Simms gets the girls Monday through Friday, Messer was not allowed to see the twins on their big day. But she told them she was planning to give "Eskimo kisses from miles away."
In the meantime, rehab-alum Messer relaxed with a glass of wine and plate of fruit at home. (The MTV star has insisted she only attended treatment for anxiety and depression, not substance abuse issues.)
As Radar exclusively reported, Messer may be reunited with her kids during the weekdays very soon. Multiple insiders claimed she scheduled a custody hearing next month to reverse the judge's October decision to hand over the kids to Simms.
The judge also ruled in her favor regarding child support. Simms was ordered to pay her $6,000 in payments due to a recalculation.
Fortunately, Messer still has primary custody of her 2-year-old daughter Addie with ex-husband #2, Jeremy Calvert.