Kenya Moore Argues With Glen Rice Jr. Before He Curses Her Out During RHOA Fight Recap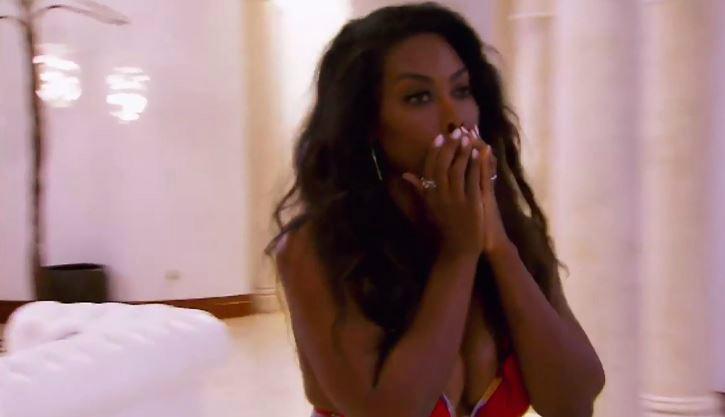 The Real Housewives of Atlanta girls' group vacation in Miami, Florida, was shaping up to be a pretty relaxing trip for the ladies following Cynthia Bailey and Porsha Williams' Lake Lanier fight. But just as Bailey hinted at the end of RHOA's Dec 13 episode, their peaceful getaway turned into a disaster when Tammy McCall Browning's nephew Glen Rice Jr. got into a heated fight with the show's crew on Sunday night.
Article continues below advertisement
The trouble started while the girls were enjoying a boat trip with Rice Jr. and a few other guys they met while out in Miami. Rice Jr. and Kenya Moore initially butted heads on the boat. And he later found himself in a tense situation with Kandi Burruss as she rested poolside with Kim Fields.
Rice Jr. congratulated Burruss on her pregnancy. But he seemingly became annoyed with her after he claimed she gave him a little "attitude" in her reply.
"What attitude was that?" Rice Jr. asked Burruss after she told him "thanks" for his statement.
"Did I have an attitude?" she replied. He then answered, "I'm asking you."
He continued, "S—t. I don't want nothing with you. You know I don't care. As long as I'm respectful, I'll do anything."
Burruss kept her composure, letting him know that there was no issue. But in her confessional, the outspoken RHOA fave admitted she was trying her best not to fire back at their guest.
Article continues below advertisement
"I'm a pregnant woman. You snapping at me. I don't know you. Take your a— on over there with them!" Burruss said.
And while speaking to Fields, she let her castmate know she didn't appreciate Rice Jr.'s words. "Girl, that was about to go way wrong," Burruss told a laughing Fields. And Fields agreed, replying, "That was about to go so wrong."
Burruss continued, "I was like, 'He might be crazy.' And you know I got a little bun in the oven, so I might need to shut up."
Glen ended up joining a few of the other RHOA ladies in the pool, with the drama appearing to have cooled down. But things heated back up quickly when Moore walked over and talked to Burruss about Rice Jr. being a little aggressive toward her as well while the girls were chatting with him in the pool. And Moore eventually suggested that Rice Jr. needed to be kicked out of the house.
Moore took her request to McCall Browning, telling her that her nephew was being rude toward her and she wanted him to leave. However, when Moore confronted Rice Jr. in the mansion about her wanting him to leave the house, the chat took a troubling twist.
Article continues below advertisement
Rice Jr. charged at Moore as she called for security to assist her. And in the mayhem, Rice Jr. even pushed his aunt McCall Browning down to the floor.
Security helped get Rice Jr. under control while the girls tended to McCall Browning. And Bailey and Moore later got into an argument over Bailey feeling like she didn't do enough to calm the situation before the fight.
The ladies were divided over Moore's role in the drama, with Phaedra Parks saying that Moore should have minded her own business. However, Burruss took up for Moore, saying that she was concerned about what would have happened if he had been there longer.
Things calmed down greatly after the fight, though. Williams made a bit of a love connection with her new friend Oliver.
Fields left the Miami house the night of the fight, and decided to go to a hotel. And once she returned back to Georgia, she gave her husband the rundown on all that happened in Miami during a family trip to the park.
Fields and Moore also had a heart-to-heart during a dinner outing, with Fields telling her castmate her unfiltered opinion on the dramatic brawl!