Eileen Davidson: 'Real Housewives' 'Is Actually Good For My Marriage'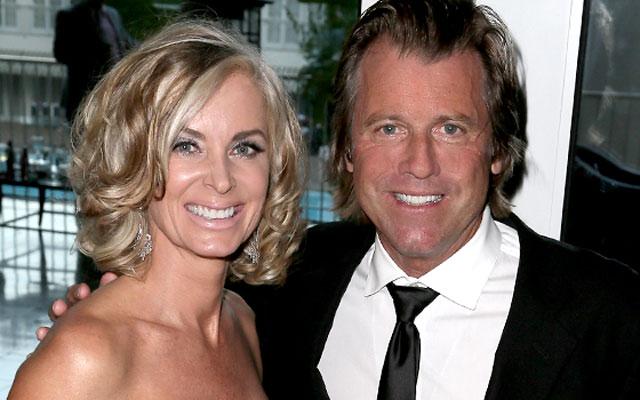 The trailer for Season 6 of Real Housewives of Beverly Hills teased that Eileen Davidson, 56, was going through a rough time with her husband Vincent Van Patten, 58.
But during an exclusive interview with OKMagazine.com, Davidson set the record straight.
"Actually that is just a teaser because there is nothing going on in our marriage frankly," she told OK!. "We always were and we are doing fine right now, yes."
Article continues below advertisement
In fact, Davidson claims that the show has made her marriage better.
"I told Lisa Rinna just a couple months ago: The show is actually really good for my marriage because I appreciate him so much going through all these ups and downs with the ladies," she said. "In our instance, it's making our marriage stronger."
So what about all of the other marriages that seem to have been destroyed by what some have termed the "Housewives curse?"
"I don't believe it's a Housewives curse," Davidson said. "I think it's just a certain amount of people who get divorced versus a certain amount of people in the population."
As for Davidson crying in the trailer, she attributes that to how people viewed the trailer.
"I guess you can misconstrue it because it doesn't really say anything, does it?" she said. "It just has me crying about something, and then it has him saying, 'You were attacking me.' But you will just have to look at it to really understand what context it's in."
Article continues below advertisement
And much unlike last season, Davidson has decided to be more personable on the show.
"I just kind of decided since I am doing this show—that last year was just kind of me getting my feet wet and getting started," she explained. "I felt like I was really kind of guarded because of basically having the wine thrown in my face like my third time I was on the show."
"It kind of made me sit back and go, 'Um, okay?'—I did a lot of observing," Davidson said. "And this year, I just decided that I was going to let people know more about my personal life, about my life in general, and let people get know me, not just who they think I am because of being an actress."
RHOBH premieres on Bravo Dec. 1 at 9 PM ET.