Donny Deutsch & The Miz Spar Over Neville On WWE's Monday Night Raw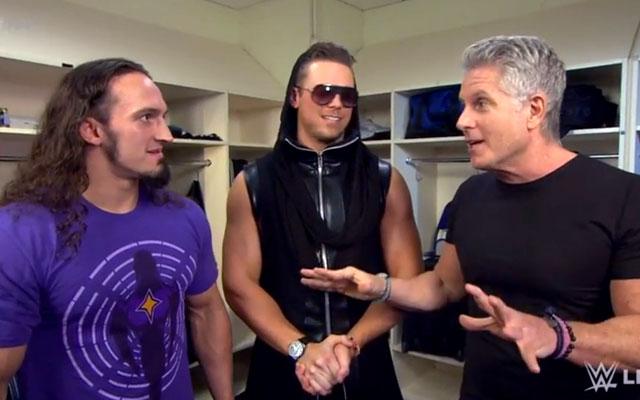 The tension was palpable when The Miz and Donny Deutsch clashed backstage on WWE's Monday Night Raw over emerging superstar Neville.
In the segment, Miz was trying to bring Neville under his wing, telling him that "with the proper packaging and the right production," he could propel him to be "the next Daniel Bryan."
Miz then introduced Deutsch, who invited the high-flying Neville to be on his comedy show Donny!, "the coolest, hottest funniest show on USA" Network — a statement Miz took exception to, claiming his segment Miz TV truly lives up to that billing.
Article continues below advertisement
Deutsch blew off Miz's shade, inviting Neville to appear on his program — "the big-time show" with "the A-listers," "the cool, young stars" and "hot babes" such as Christie Brinkley.
"Christie Brinkley?" Miz said. "She was cool in the 80s: Who's your next guest: Alf?"
But Deutsch got the last laugh, teasing Miz that he'd let him on the show — "five years down the road" — while handing Neville his card, as he wanted him on "immediately."
Watch the video on RadarOnline.com
WWE Monday Night Raw airs Mondays at 8/7c, while Deutsch's new comedy Donny! airs Tuesdays at 10:30/9:30c, both on the USA Network.