Payday! Brooks Wins $130K In Vicki's Vodka Lawsuit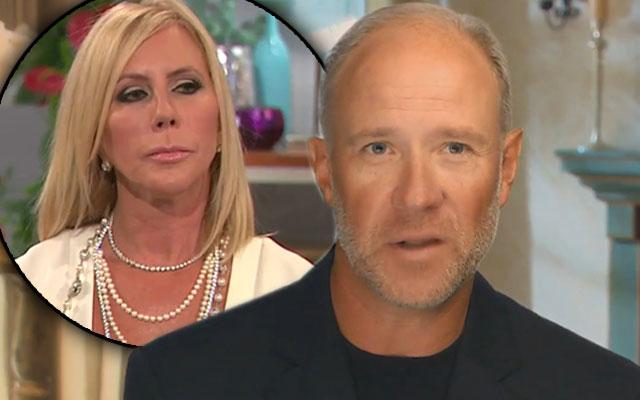 After the humiliation of having his cancer lie exposed, Brooks Ayers finally got a lucky break: He's been awarded $130,000 in attorney's fees for his Vicki's Vodka lawsuit, RadarOnline.com has learned.
Earlier this year, a Nevada judge dismissed the fraud lawsuit Vicki Gunvalson's former Vicki's Vodka partner brought against her boyfriend, Ayers, declaring he "in no way breached the contract."
Professional poker player Robert Williamson III had sued Gunvalson, 53, in August 2013, over claims she breached a settlement agreement for another lawsuit about her alleged failure to promote the vodka line. The next month, he filed another suit against Ayers, alleging breach of contract, breach of convenient of good faith and fair dealing, misrepresentations, fraud, and omissions, unjust enrichment, civil conspiracy and promissory estoppel.
Article continues below advertisement
Lawyers for Brooks were successfully awarded $130,000 to be paid by Williamson.
The legal documents obtained by Radar state, "Defendant David Brooks Ayers moves for attorneys fees against Robert Williamson III, who sued Ayers and other defendants over a failed vodka business in 2013. Finding that there was no reasonable basis for Williamson's claims against Ayers — which Williamson himself seems to admit by not responding to either Ayers's motion for summary judgment or to this motion for attorneys fees — I grant Ayers's motion."
It's a small personal victory for Ayers after being accused of faking a cancer diagnosis and forging medical documents.
As Radar reported, Ayers was paid $12,000 by E! for a tell-all interview where he produced his alleged "medical records." He later admitted that they were forged when the City of Hope Hospital confirmed that they never treated him.