Phaedra Parks Blames Kandi Burruss For Destroying Their Friendship During Argument Over Her Husband Apollo Nida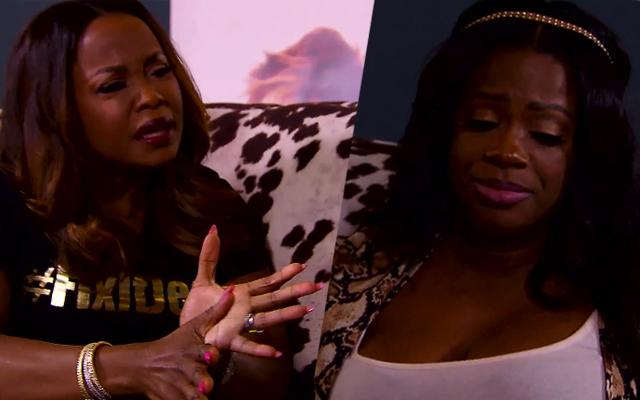 Though they were once one of The Real Housewives of Atlanta's most beloved duos, Phaedra Parks and Kandi Burruss continued to struggle to repair their struggling friendship during Sunday night's episode of RHOA.
"You and I ain't really been talking like how we used to. And to be honest with you, purposely, on my end, I was pulling all the way back," a teary-eyed Burruss told Parks.
Burruss then began to break down even more as she explained exactly why she felt the need to step away from her once close friend! Burruss told Parks that she did not appreciate her claims during RHOA's Season 7 that she had not supported Parks during her marriage drama with Apollo Nida. But Parks claimed she didn't remember exactly all she had said about Burruss last season, causing the singer-songwriter to quickly become annoyed with her former best friend!
Article continues below advertisement
"When you and I talked, you would make it seem like you was good. But then around other people, you put on a different face," Burruss said. "That pissed me off! Because for the past few years I felt like anytime we've gotten together is because I called you."
But Parks had a few grievances of her own, specifically blasting Burruss' decision to help out Nida by storing a few of his personal items at her home ahead of him reporting to prison last year.
"Well let me tell you what really tripped me out, when a stranger came up to me in the grocery store and said, 'I want to buy some of Apollo's stuff that is sitting up in Kandi's property.' When I'm like, 'Huh! What do you mean?'" Parks said.  She added that she felt Burruss may have helped Nida to try to "hurt" her and didn't get why she would store the items.
Burruss admitted that she and her husband, Todd Tucker,  were indeed holding a few motorcycles for Nida. However, she remained unapologetic about the situation, saying it still didn't warrant Parks' hateful attitude toward her. She also defended herself by saying that at the time of the couple helping Nida, Parks wanted him "to get his s--t up out your house!"
Article continues below advertisement
Parks also blasted Burruss and Tucker for the two questioning why she hasn't taken her sons, Ayden and Dylan, to see their father at the Kentucky prison where he is serving his fraud sentence.
But the chat took an even uglier turn when Burruss went on to accuse Parks of short-changing her husband thousands of dollars for a workout video he helped produce for her. Burruss revealed to Parks that Tucker was "still holding a grudge" against Parks for not paying him the money for the finished video. The two even haggled over how much Parks still owed Tucker! Parks said she only had $5,000 left to pay Tucker, but Burruss claimed Parks owed her husband $8,000.
Parks and Burruss appeared to end their heated meetup on a positive note, even giving each other a hug before parting ways. But when Burruss' business partner and friend DonJuan Clark raised a few questions about how sincere Parks really was during the chat, Burruss was left wondering if the two were truly on the path to repairing their relationship.
Parks and Burruss weren't the only RHOA ladies facing issues during Sunday night's episode, though. Cynthia Bailey got into a nasty argument with her husband, Peter Thomas, at her eyewear launch party over his run-in with Kenya Moore at the event.
Porsha Williams discovered her sister Lauren Williams pregnancy surprise and held a party for her boyfriend, Duke Williams! And Kim Fields made her debut on the show, slightly shading Kenya Moore during a business meeting regarding the RHOA vet's Life Twirls On TV pilot!
You can catch the latest episode of The Real Housewives of Atlanta on Sunday at 8 p.m. EST on Bravo.