Peter Thomas Cries During Fight With Cynthia Bailey After She Admits She May Not 'Love Him Anymore'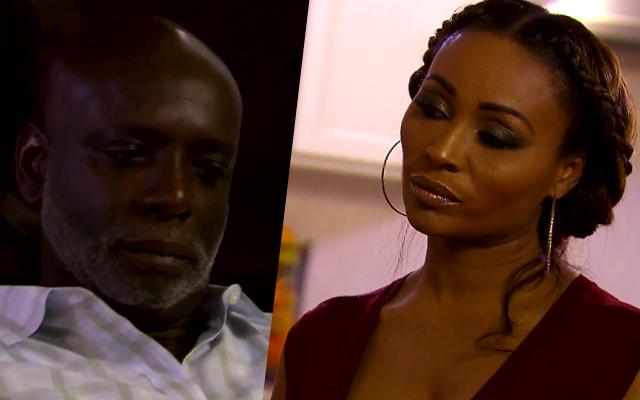 Peter Thomas and Cynthia Bailey's relationship continued to crumble during Sunday night's episode of The Real Housewives of Atlanta as the couple struggled to overcome their growing tension following Thomas' messy cheating scandal.
Thomas fled to Charlotte, North Carolina, for 10 days after his fight with Bailey at her eyewear line's launch party, ignoring all of Bailey's attempts to contact him during his time away. And when he finally returned to the couple's Georgia home, the two were forced to address their troubled relationship and Thomas' unexpected getaway!
Article continues below advertisement
"It's like we got married and now it's work work work work work. Our ambition supersedes our relationship," a solemn Thomas told his wife as they started the heartbreaking one-on-one.
Bailey admitted that they had lost focus in their relationship and needed to work overtime to get back to a happy place. "You know and I know that there's a disconnect between us. So we need to figure out what our plan is," Bailey said.
But a slightly defensive Thomas quickly pointed the finger at his wife for contributing to their issues since she failed to make him a priority in her life.
"Our problem is that we made no time for each other," Thomas said. But Bailey challenged his claim with her own question. "Why don't we spend time together?" she inquired before Thomas bitingly replied, "Because you don't make the time."
Bailey went on to knock Thomas' allegations, saying she made her own "sacrifices" to make their relationship work. And she also slammed his decision to open a bar in Charlotte, which she claimed cut into his free time as well. However, when Thomas continued to plead with Bailey that she stop blaming him for all of their issues, the RHOA beauty made a shocking revelation about the way she truly feels about her husband.
Article continues below advertisement
"I'm not saying it's your fault. I just know that I'm unhappy. And what I equate to being unhappy is maybe I'm just not in love with him anymore," she said.
A tearful Thomas replied, "You know what? I just want to know when you stopped loving me."
"I don't know," Bailey answered, saying that her feelings were tied to "a lot of different things" and the two were possibly just "not compatible." She added that she felt that Thomas didn't love her anymore either. But even though their emotional chat seemed like it was possibly the end of the RHOA couple, the two ultimately decided to give their marriage "one more go" and "fight" for their relationship.
Despite Thomas and Bailey's heavy conversation, there were some lighter moments during the episode. Porsha Williams participated in a charity race, with her castmate Kandi Burruss cheering her on at the event! And Williams also spoke with Burruss about her frustrations over the rumors being spread about her boyfriend Duke Williams at the going away party she threw for him.
Kenya Moore also held the launch party for her hair care line, where Shamea Morton took a slight dig at Moore's products. And Moore and Shereè Whitfield ended their feud at the event — at least for now — apologizing to each other for their actions at Bailey's eyewear launch event. Elsewhere, Kim Fields tried to bond with the RHOA ladies, and Burruss gave her husband, Todd Tucker, the rundown on her heart-to-heart with Phaedra Parks.
You can catch the latest episode of The Real Housewives of Atlanta on Sunday at 8 p.m. EST on Bravo.