Back Off, Bully! Snooki Recalls 'Scary' Meeting With Chris Christie: NJ Governor Was 'Full Of Hate'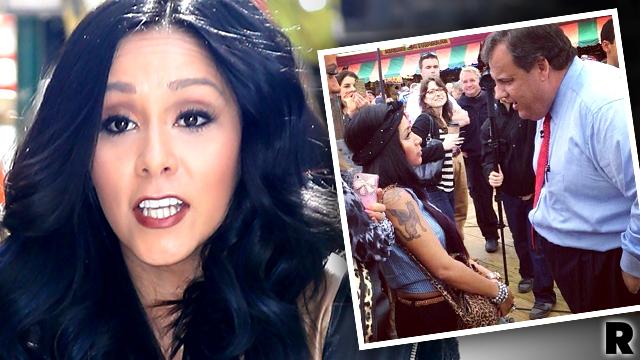 Nicole "Snooki" Polizzi and Chris Christie have been nemeses since her early days on the Jersey Shore, when the New Jersey governor slammed the MTV reality star for allegedly making his home state look "bad."
When the two very different public figures came together for a Hurricane Sandy recovery event in 2013, a single photo captured the moment.
Now, two years later, Polizzi is finally revealing more about their meeting— and she doesn't have anything nice to say about the presidential hopeful, 53.
Article continues below advertisement
https://instagram.com/p/Zs1CPCBjtS/
"I introduced myself and said, 'I hope you can start to like us,'" she recalls in her new book, Strong Is the New Sexy, in a section titled "The Governor of New Jersey Tried to Eat Me."
But Christie didn't accept the peace offering.
"He leaned in close and told me why he doesn't," the 27-year-old mother of two continues. "His expression was full of hate."
"I was in Seaside Heights that day to raise money for victims, and he's taking time out of his governor day to insult me to my face?"
She says costar Deena Cortese, 28, attempted to ease the tension, but Christie wouldn't stop his "obnoxious" behavior.
"He outweighs me by a thousand pounds, and he learned really low and got up in my face, trying to scare me," she writes. "I didn't back down, though. I said 'Why are you standing so close?'"
She may have acted tough, but inside, the pint-sized Polizzi was terrified of the portly politician.
"I was definitely intimidated; Christie is a scary man," she admits. "My knees were shaking."
Needless to say, the TV personality won't be supporting Christie's campaign for the Republican nomination.
However, the normally outspoken star kept her comments on his presidential candidacy short and sweet.
"We'll see how that works out for him," she says. "That's all I'll say about that!"