Desperate Leah Messer Posts Sweet Notes To Twin Daughters Following Custody Loss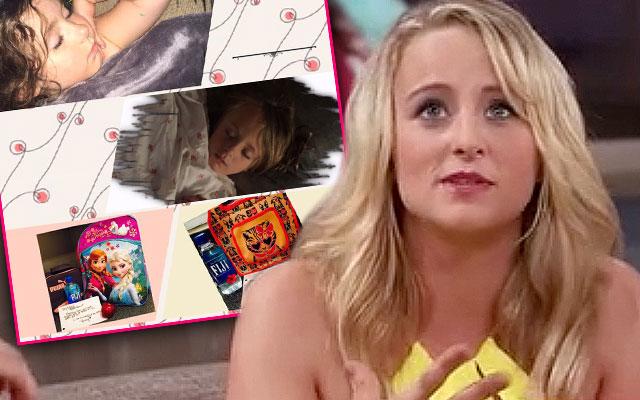 It's just a case of too little, too late.
Just days after news broke that Leah Messer lost custody of her adorable 6-year-old twin daughters, the troubled Teen Mom 2 star, 23, posted photos of her preparations for the girls' school week.
In a picture of packed backpacks and healthy snacks, she included her sweet, hand-written notes to Ali and Aleeah for their Monday in class.
"My Dearest Aleeah Grace, Mommy hopes you have a great day at school and you give your all! I love you with all of my heart," she wrote in one note, places strategically next to a Frozen bag.
Article continues below advertisement
"My dearest Ali, Mommy hopes you are having an amazing day at school! I love you with all my heart!" she gushed in the other letter.
As Teen Mom fans know, Messer reportedly lost primary custody of her eldest daughters to their father Corey Simms, 25, in West Virginia court on October 13 following months of monster mom accusations.
On the last season of the MTV hit show, Simms and his new wife, Miranda, claimed Messer repeatedly brought her kids to school late and failed to bring disabled daughter Ali to doctor's appointments.
She was even caught on camera feeding her kids dinner at midnight on a school night, and fighting with ex-husband #2 Jeremy Calvert in front of them.
Sadly, her perfect mommy social media posts have some two weeks too late, as a judge allegedly ruled Messer will only have her daughters on weekends, while Simms will care for the girls during the school week.
Messer has certainly had a roller coaster year: She checked into rehab in June for what sources tell RadarOnline.com was a prescription painkiller problem, finalized her divorce from Calvert while in treatment, and swiftly started dating personal trainer T.R. Dues, 32.
Can Leah turn her life around? Sound off in the comments.