The Start Of A Fatal Binge? Cocaine-Fuelled Lamar Odom Unsteady On His Feet As He Sneaks Off With 2 Hookers To Nevada Sex Suite –– Watch The New Surveillance Video Seized By Cops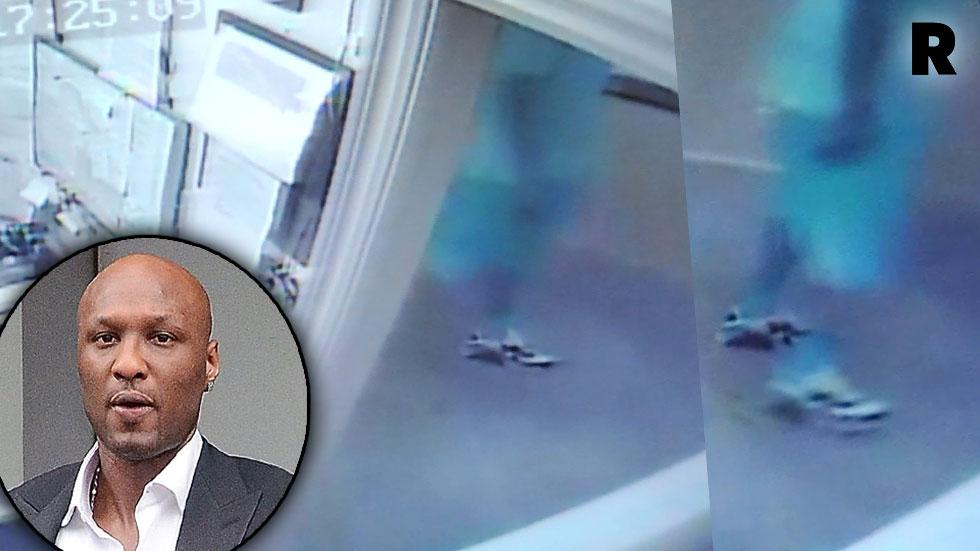 In yet another blockbuster RadarOnline.com world exclusive, a drugged up Lamar Odom is seen struggling to walk at the Love Ranch brothel in Crystal, Nevada.
The footage, caught on a surveillance camera at the Ranch, shows the former NBA star stumbling as he makes his way by a security office. Two brothel employees -- clad in short dresses and high heels -- beckon the unsteady former NBA star down the hall.
Article continues below advertisement
Just minutes after, Odom is spotted retrieving a baggie from his pocket at the establishment's on-site bar, in which he seemingly pulls out a pill to pop into his mouth.
Nevada police have obtained the footage for further investigation, RadarOnline.com and The National ENQUIRER, in a joint investigation, have been told.
Odom arrived at the Love Ranch Saturday afternoon, where brothel owner Dennis Hof confirms that he drank from a bottle of cognac. Meanwhile, police have revealed that Odom used both cocaine and herbal Viagra in the hours before his overdose.
Watch the World Exclusive Video on RadarOnline:
As RadarOnline.com previous reported, the athlete had track marks on his arms — and cocaine and opiates in his system — when he was discovered unconscious at the Ranch just two days ago.
Medical professionals treating the ex-NBA forward at the Sunrise Hospital and Medical Center in Las Vegas confirmed the presence of drugs in his system, which noted that crack cocaine abuse was responsible for the fluid that had built up in his lungs.
Not long after, employees of the ranch would find Odom unconscious in his VIP suite, covered in what the sheriff called "a white substance" and blood.
Odom remains in critical condition at Sunrise Hospital in Las Vegas, where – as insiders told RadarOnline.com – he is currently clinically brain dead.
Ex-wife Khloe Kardashian and other close friends and family have gathered around Odom for possible goodbyes.