Lamar In Danger? Odom's Hospital Has High Infection Rate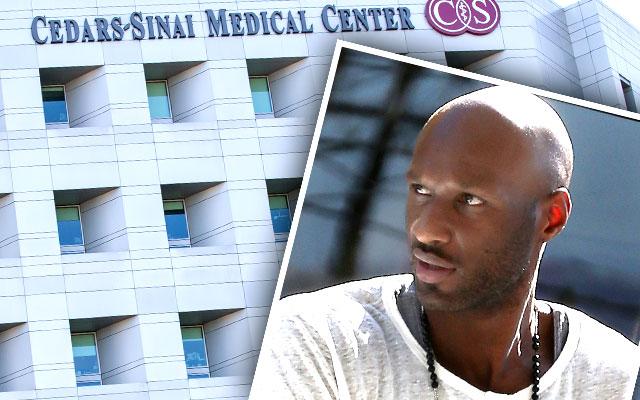 Could Lamar Odom be in danger? Khloe Kardashian's husband continues to recover from a drug overdose at Cedars Sinai Hospital in Los Angeles, but RadarOnline.com has learned that a government agency has reported the hospital has higher-than-average infection rates. In addition, several former patients have filed explosive lawsuits alleging improper treatment.
According to a recent Medicare report, Cedars had 307 patients diagnosed with Clostridium difficile, which affects the intestines, and can cause severe abdominal pain, and weight loss. The infections resulted in 237,007 patient days in the hospital and Medicare said Cedars is worse than the national benchmark in this regard.
Article continues below advertisement
The facility did score better than the national average for patients suffering from MRSA (staph infections) and various blood infections. But nevertheless, the facility has been sued by angry patients dozens of times in the past year alone.
In one case, plaintiff Elizabeth Scherer alleged that she contracted a staph infection after undergoing a spinal lumbar procedure in May 2014.
The lawsuit, which was filed in June 2015, stated that she had to undergo numerous surgeries as a result of the infection, and had to continue to take antibiotics upon being released.
In another instance, former patient Shannon Hazlett filed a lawsuit after giving birth, when her child was diagnosed with bacteraemia, and treated in the neonatal ICU as discharged with similar symptoms.
Hazlett was discharged with similar symptoms, according to the suit, but the bacteremia went undiagnosed in Hazlett for eleven days, and caused damage to her heart. She utlimately required two cardiac surgeries including the insertion of a pacemaker.
Another lawsuit claims that doctors failed to correctly diagnose a tumor in one patient's abdomen for almost a year, causing the cancer to spread.
These recent lawsuits are all still pending.
In addition, Cedars self-reported several incidents to the California Department of Public Health.
Although such reports do not mean that a federal or state violation occurred, the hospital admitted to not turning a patient in a timely manner, a maternal death/disability due to labor or deliver, and an unspecified infection control incident.