Lamar Is NOT Walking, Still 'Very Sick' & Barely Moving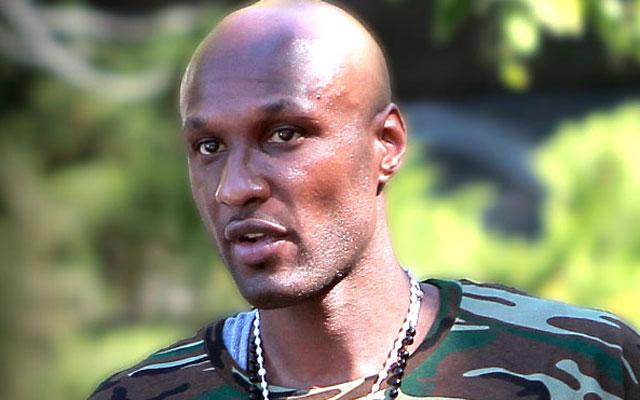 Despite reports that Lamar Odom has been walking, insiders tell RadarOnline.com that the NBA star is still "extremely sick" and barely moving, as kidney dialysis continues to take a toll on his ravaged body.
"The Kardashian spin machine has been in overdrive telling media outlets Lamar has been improving daily," an insider told RadarOnline.com. "The reason they are doing this is it allows Kim, Kendall, Kylie and Kendall to carry on with their appearances, and posting selfies on social media. The truth is that the dialysis Lamar is getting every other day is taking a toll on his body."
Article continues below advertisement
"Lamar is sleeping most of the day, struggling to talk, and definitely hasn't been walking," the source insisted.
"Even though Lamar has been able to sit in a chair, it's just an extension of the hospital bed. It's a full recliner, and it takes four people to assist him the two steps to the chair. But doctors want Lamar out of bed to manage the pneumonia and to prevent bed sores."
Overall, the insider stressed he is not out of the woods: "No one should be surprised if Lamar's condition worsens."
As RadarOnline.com reported, Odom was discharged from Sunrise Hospital in Las Vegas less than a week after he was found unconscious at the Love Ranch brothel in nearby Crystal, Nevada.
Meanwhile, Los Angeles Times sports columnist Bill Plashke has blistering words for the first family of reality television, and said the Kardashian's "freak show capitalizes on Lamar Odom one more time."
"Suddenly, all the prayers weren't only for Odom, but for the poor Kardashians and all their pain, reality TV's freak show pulling in Odom one more time, capitalizing on his celebrity one more time, overshadowing his real struggles one more time, creating an irony both somber and profound," he wrote. "The Kardashians came across as Odom's intensive-care advocates when, in fact, his appearance in their warped TV world was part of the self-destructive slide that led him there."
Plashke claimed that he had a concerning interaction with Khloe once at an event, when he questioned how the show was affecting Odom's performance on the court.
"I approached her and challenged her motives," he claimed. "Without ever looking me in the eye, she responded, 'The show has been therapy for Lamar. It's been a real release.;"
But how does Odom feel now?
The source added, "Lamar has absolutely no ability to convey what is really going on because of his poor health. And perhaps that is how Khloe wants it."