Why Kim Is Against Khloe & Lamar's Divorce Dismissal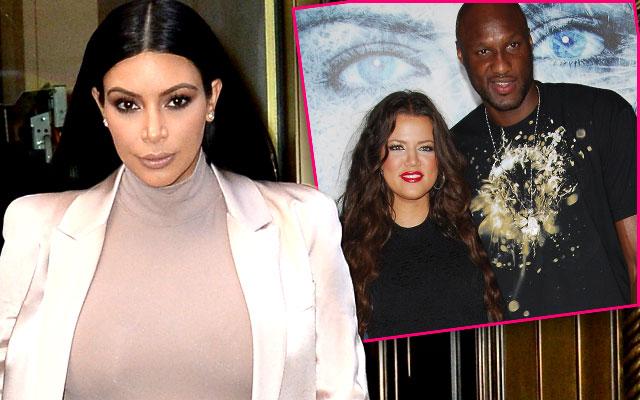 While the rest of the Keeping up with the Kardashians clan continues to rally around Khloe Kardashian following the announcement that she and Lamar Odom have called off their divorce, there is one family member that is not very supportive of her sister's decision – Kim Kardashian!
A source close to the 35-year-old tells RadarOnline.com exclusively, "Now that Lamar is going to be okay, Kim is back to her prior stance on the situation."
Article continues below advertisement
Meaning, "Kim is telling people she really feels that Khloe needs to let him go!'
As RadarOnline.com previously reported, the pregnant mother of North West was adamantly against her sister Khloe continuing to speak with her ex in the weeks before Odom's tragic overdose from drugs while in a brothel outside of Las Vegas, Nevada. It was even a major storyline on KUWTK.
But when Odom was in a coma at Sunshine Hospital in Las Vegas, Kim was one of the first family members to be by her sister's side while preparing for the worst-case scenario.
MORE ON:
Keeping Up With the Kardashians
However, now that Odom is on his way back to a full recovery, Kim has once again jumped the fence.
"Kim knows that Khloe loves Lamar, but she also knows how bad he hurt her over the course of the past couple of years," the source tells RadarOnline.com.
"She is telling people she thinks that the fact that Khloe is giving up her entire life for him again is absolutely ridiculous."
Do you think that Khloe Kardashian is making the right decision by calling off her divorce from Lamar Odom? Tell us your thoughts in the comments below.