Rev. Jesse Jackson On Lamar Odom's Condition: 'He's Showing Signs Of Responsiveness' – Says Ex Khloe Is By His Side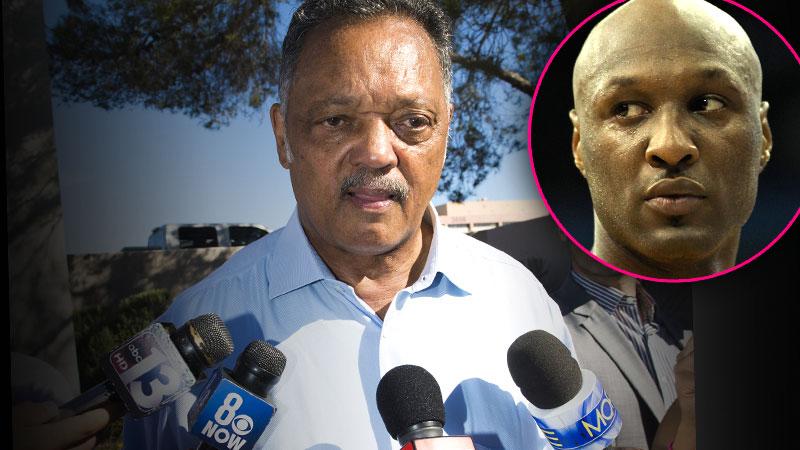 Reverend Jesse Jackson arrived at Sunrise Hospital on Wednesday, Oct. 14, checking up on former NBA star Lamar Odom, who remains on life support after being found unconscious in Nevada's Love Ranch brothel.
Sports writer Bill Oram was able to capture Jackson's comments outside the hospital, where the civil rights activist confirmed Odom's current condition.
Jackson verified that "doctors felt Odom is much better off today than he was yesterday. At least there is some responsiveness now."
Article continues below advertisement
"He's not talking," Jackson continued. "He's got tubes running out. But we felt inspired by his presence, we had prayer."
After Odom was transported to the hospital, close friends and family flew to his side, including ex-wife Khloe Kardashian.
"She's strong and she's hopeful and she's acting and loving and by his side," Jackson shared of Khloe. "When he does wake up he will see her right there in the room with him."
Watch the Video on RadarOnline:
Posted by Parker Collins on Wednesday, October 14, 2015
As RadarOnline.com previously reported, Odom had track marks on his arms — and cocaine and opiates in his system — leading to his hospitalization in Las Vegas.
Medical professionals treating the ex-NBA forward at the Sunrise Hospital and Medical Center in Las Vegas confirmed the presence of drugs in his system, according to reports, which noted that crack cocaine abuse was responsible for the fluid that had built up in his lungs.
Insiders told E! that "virtually every drug imaginable was found in his system," and that the one-time top NBA rebounder "had been partying since Friday.
Jackson concluded his update by saying: "We certainly hope he comes out of this, it seems he will."