Bristol Palin Shows Off Baby Bump In 7th Month Of 2nd Out-Of-Wedlock Pregnancy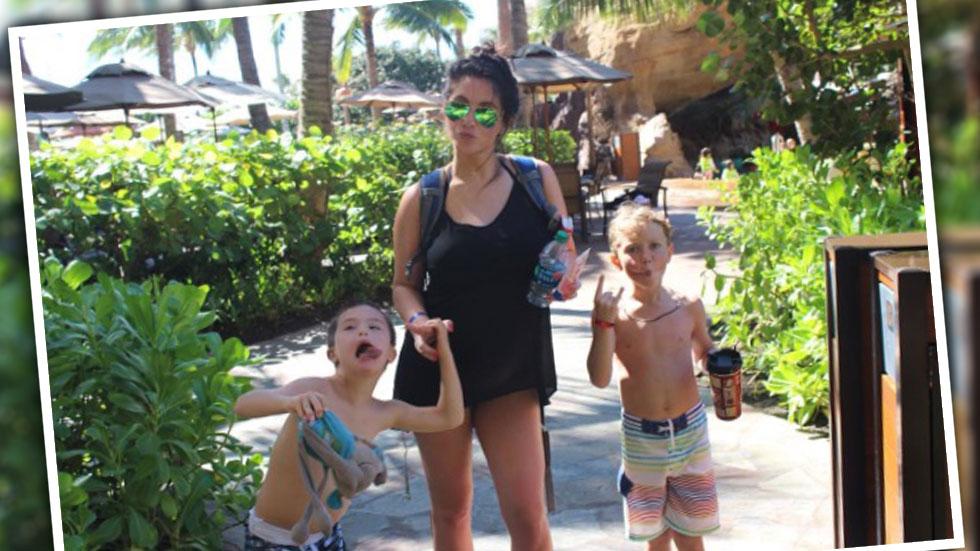 Bristol Palin gave fans an updated look at her baby bump in a new Instagram shot featuring son Tripp and brother Trig.
The daughter of former Alaska Gov. Sarah Palin captioned the photo: "7 months pregnant but still the best time with my boys," as the trio took in a day at the water park Monday. In the shot, 24-year-old is making a classic duck face with shades on, while clad in a black tank top and matching shorts.
Article continues below advertisement
The Dancing With The Stars vet opened up to the public about her second pregnancy this past June, brushing off criticism after she earned big bucks on the public speaking circuit touting abstinence after making national headlines as a teenage mom-to-be during her mother's political campaign in 2008.
https://instagram.com/p/8eaCZ-S9lW/
In addressing her controversial pregnancy, Bristol admitted, "I made a mistake, but it's not the mistake all these giddy a**holes have loved to assume."
While admitting that her latest pregnancy isn't "in the most absolute ideal circumstance," her having the child is a testament to her staunch pro-life views.
"This is more confirmation on what I've always stood for. I've always been pro-life and I am standing for life now," she said. "I never even thought of aborting this child, NO MATTER WHAT THE CIRCUMSTANCE."
She later raised eyebrows in calling her pregnancy "planned," claiming that those close to her knew she "wanted more kids" and "to have a bigger family."
As RadarOnline.com exclusively reported, Bristol has told pals that her one-time fiancé, 27-year-old veteran Dakota Meyer, is the unborn child's father.