Delaware Police Shooting Of Wheelchair-Bound Man Caught On Camera –– Jeremy McDole Dies After Shocking Incident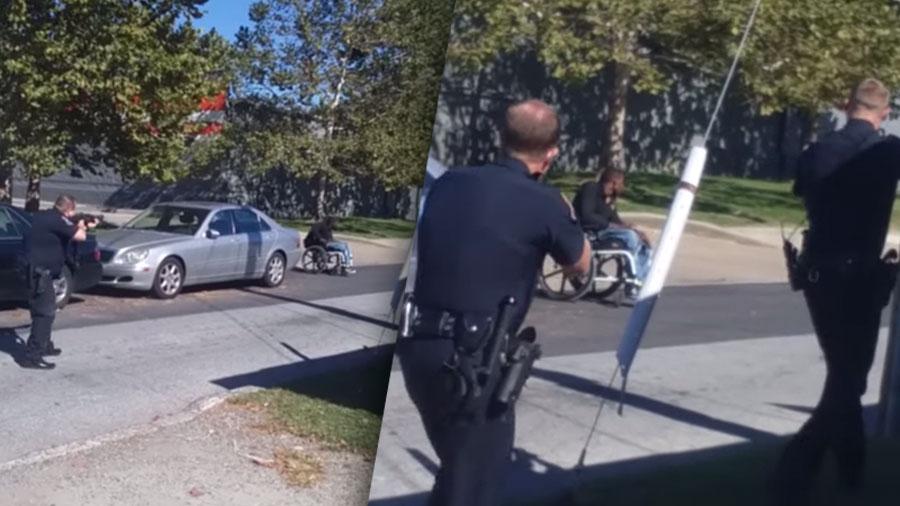 A national controversy has erupted after a video surfaced online showing cops in Wilmington, Del. opening fire on Jeremy McDole, a man in a wheelchair.
McDole, who is black, was shot and killed Wednesday by cops who arrived after a call was placed to 911 operator claiming an armed man in the area had shot himself, police said.
McDole, 28, refused to comply with police after officers asked him to put up his hands and place his .38 caliber handgun on the ground, according to Police Chief Bobby Cummings.
Article continues below advertisement
Watch the video on RadarOnline.com (WARNING: Content Is Graphic & Disturbing)
"When he went to remove the weapon, they engaged him," Cummings said of the shooting, adding he didn't know if McDole aimed his firearm at officers who responded to the call.
The police chief confirmed the authenticity of the video, in which police shouted "Show me your hands" and "Drop the gun" at McDole, who was confined to a wheelchair after he was paralyzed after a shooting ten years ago.
In the video, McDole is seen putting his hands toward his waist, at which point shots are fired, and he slumps out of his chair and falls to the pavement.
Concurrent investigations -- from the police dept. and a state agency -- have been launched into whether the officers should have taken different measures prior to opening fire, Cummings said. The four involved have been put on administrative duty.
Article continues below advertisement
It was unknown if McDole had been suicidal in shooting himself, according to the police chief.
A probe conducted by the Delaware Department of Justice's Office of Civil Rights and Public Trust will suss out whether any cops are charged in connection with the incident.
Local NAACP officials said they want a prosecutor to launch an independent investigation, as opposed to the state agency, due to precedents set in the probes of officer-involved shootings.
"There's been so many shootings, and every time it comes out it was a justified shooting," the NAACP's Richard Smith told the AP. "Every time there was a shooting, it came back justified shooting -- everything can't be justified.
"We cannot continue having all our folks being shot and nobody held accountable."
McDole's mother, Phyllis McDole, said she needs "answers" after watching the video, calling her son's death "unjust."
"There's video showing that he didn't pull a weapon," she said. "He was in a wheelchair, paralyzed from the waist down."
Jeremy McDole had past convictions in connection with drugs and disorderly conduct, and incurred a probation violation last November.