Golden Girl: Kourtney Kardashian Flaunts Her Bikini Bod In Metallic Two-Piece – Take That, Scott!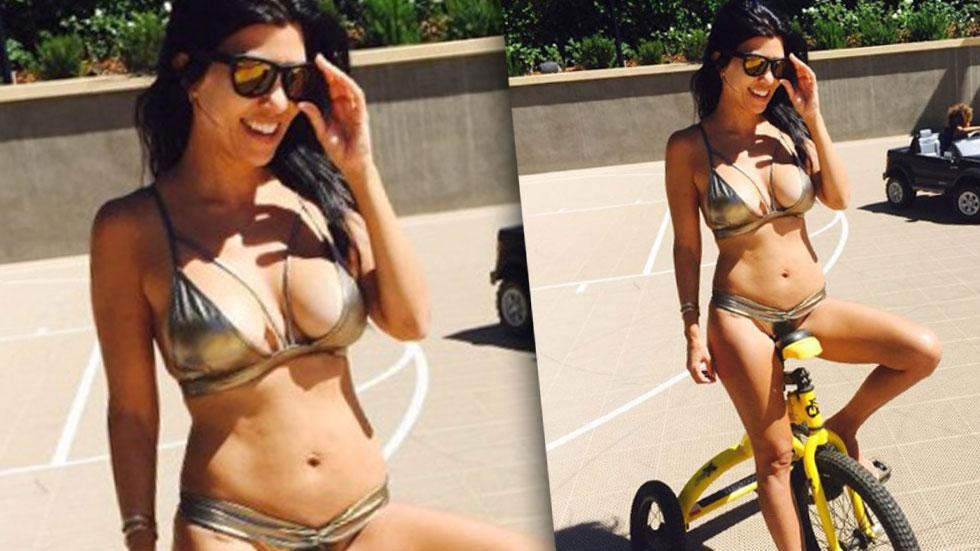 Kourtney Kardashian spent Labor Day weekend flaunting an impressive beach body and hanging out with her kids. Sorry Scott, you weren't invited!
The mother-of-three kept her little tykes busy for the holiday, visiting an animal shelter and hosting a kids sleepover during their three-day weekend.
But Kourtney also managed to catch some rays, posting a photo of her workout-ready bod in a gold bikini while riding a tricycle in the driveway.
Article continues below advertisement
"Happy Labor Day!" she wrote, joking, "Wait, there's no emoji for a tricycle with no handles?!"
https://instagram.com/p/7WwAexE1oQ/?taken-by=kourtneykardash
The reality star hasn't been shy about showing off her newly toned physique. In a recent battle of the exes, Kourtney has easily surpassed her party boy ex in vacay glam shots.
https://instagram.com/p/6i0d7Fk1s4/?taken-by=kourtneykardash
Meanwhile, as Radar previously reported, Scott has allegedly retained an attorney to "fight" Kourtney "for his money" in court.
"Scott is ready to fight her for what he believes is half his," a well-connected Keeping up with the Kardashians family insider says.
Look out, at the rate these former flames are going, their feud may boil over soon!