Mirror Ball Fall! Defensive Kim Zolciak Says 'DWTS' Debut Was 'Overwhelming' -- Why She Burst Into Tears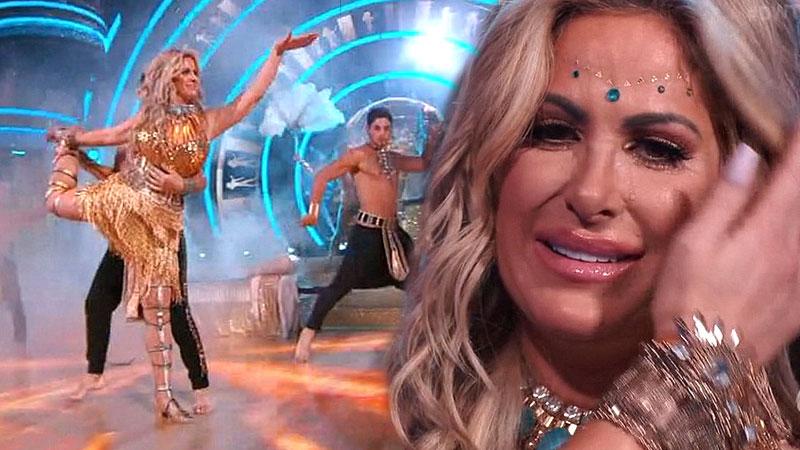 All reality TV shows are not alike! Kim Zolciak learned that lesson the hard way when the Bravo queen bee crashed and burned during her first night on Dancing with the Stars. After the embarrassing and tear-soaked debut, she opened up to reporters about why her low scores weren't her fault.
"I am really proud of me. I put the time in," 37-year-old Zolciak said after her dismal salsa performance with her partner, Tony Dovolani.
Article continues below advertisement
"To get out there on the dance floor is a lot. It's one thing to film a reality show, be yourself and get paid for it! It's a different thing to walk out on stage, in front of millions of viewers and shake your bum bum," the Real Housewives of Atlanta star admitted.
As viewers saw during the live show, Zolciak turned on the water works after her dance, where she scored a 12, the lowest of the evening.
She revealed what made her cry, and refused to admit that she was unhappy with the judges' opinion of her.
"I accomplished this!" she insisted. "It's overwhelming for me. No matter how big my personality might be on television, I still have feelings."
But she isn't giving up and said that she is going to work harder: "Where can I go from here? Only up!"
The mother of six brought along Brielle Bierman, and she said that her own tears were contagious.
"My oldest daughter is here tonight. She is my biggest fan," she described. "She started crying when I cried!"
What do you think about Kim's DWTS flop? Sound off in the comments below.