Elephant In The Room! Jim Bob Duggar Reveals Secrets Of Disgraced Josh's Recovery At Amy's Wedding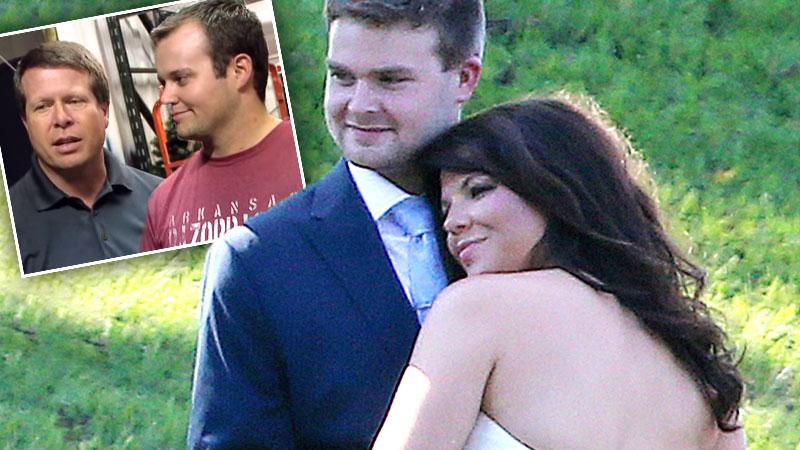 Josh Duggar was absent from cousin Amy's fairytale wedding last weekend— but the family still whispered about the admitted cheater and porn addict amid the festivities.
Aspiring country singer Amy's lifelong friend and music mentor, James Garrett, exclusively tells RadarOnline.com that he spoke with family patriarch Jim Bob Duggar at the nuptials about Josh, 27, who is currently in a Bible-based rehab facility for his sex issues.
Article continues below advertisement
"I did inquire with Jim Bob about Josh, and he said he's getting help and they are all praying for him," says Garrett, who performs
a John Denver tribute show in Branson, Missouri. "It's all they can do."
Garrett also talked with the older Duggar children— Jill, 23, Jessa, 22, and Jana, 25, were all present at the ceremony— about how they're handling the troubled eldest brother's latest scandal.
"They said, 'We're all just going to move ahead and live, we're all fine,'" Garrett reveals. "They were forthcoming about it. They have a strong faith, and were all in good spirits."
Despite the quiet discussions about Josh, all wedding guests were able to focus on the woman of the evening.
"Everyone was gathered there for Amy," Garrett insists, adding that non-family members were "respectful" about the sore subject.
As RadarOnline.com previously reported, Amy, 28, married fiancé Dillon King, 27, at the Horton Farms in Bentonville, Arkansas, on September 6.
Despite the scandal, the Duggars, including Josh's long-suffering wife Anna, 27, celebrated the new family union.
But only for so long. Of course, Garrett told RadarOnline.com, the Christian clan skipped out as soon as the drinking and dancing began.