Hungarian Camerawoman Caught-On-Camera Kicking Immigrants Fired –– Politicians Seek Charges To Be Brought Over Shocking Display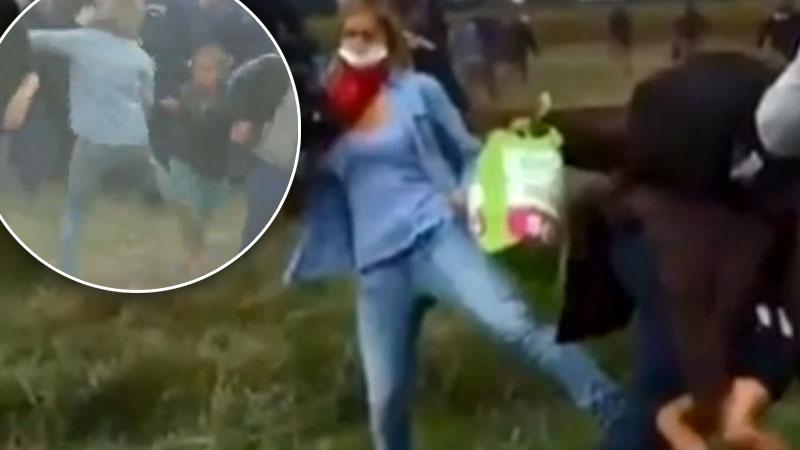 Hungarian photojournalist Petra Laszlo has been fired after she was caught-on-camera Monday kicking multiple people -- including children -- in a video that went viral.
Watch the video on RadarOnline.com
Laszlo, who worked for N1TV, was "terminated" effective immediately after she "behaved unacceptably" out in the field while covering a crossing point for immigrants, according to N1TV editor Szabolcs Kisberk. (N1TV is ran by the Jobbik party, which is right-wing and against immigration.)
Article continues below advertisement
In the clip, a group of immigrants were moving through a police-monitored checkpoint for immigrants, who are seeking asylum by moving from Serbia to the Hungarian village of Roszke, with an eventual destination of Budapest.
Laszlo could be seen intentionally kicking multiple people as they rushed through the chaotic scene.
Watch the video on RadarOnline.com
Leaders with the Democratic Coalition and the Dialogue for Hungary, two prominent Hungarian left-wing parties, said they would contact authorities to report Laszlo for assault. Timea Szabo, of the Dialogue for Hungary, called Laszlo's caught-on-camera actions "the pits of human behavior."
In Roszke, police and immigrants have been clashing for the past few days, as a system of buses routed to refugee registration camps has lagged, spurring the immigrants to cross boundaries set by law enforcement.
A Facebook page denouncing Laszlo had more than 20,000 likes in two days.