Tom Cruise Snubbed Step-Father On His Death Bed & Skipped Funeral! The Sad Final Interview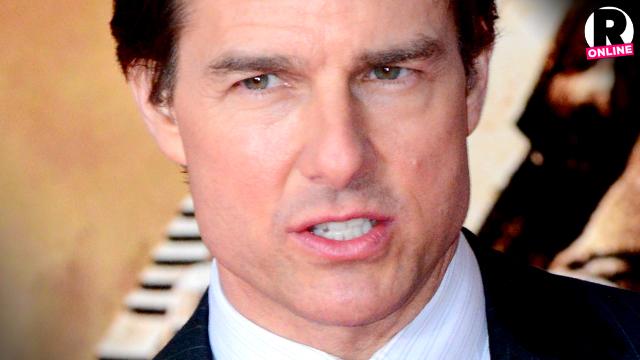 Tom Cruise was no hero to his stepfather, according to a new report. After getting involved with Scientology, the Mission Impossible 5 star reportedly turned his back on the man who raised him, staying away from his deathbed and even skipping his funeral!
The National ENQUIRER reports that the actor failed to visit John "Jack" South as he valiantly battled a chronic disease during the last weeks of his life. The 89-year-old World War II veteran passed away July 25 in a second-rate Florida hospice.
Article continues below advertisement
Astonishingly, neither Cruise – nor his mother – attended Jack's Aug. 7 funeral!
South – once described by Cruise as a "wise, smart man" – spoke exclusively to The ENQUIRER two weeks before his death in an emotional interview during which he opened up about his world-famous stepson.
"I knew him before he was Tom," a dying and distraught South said from his hospital bed. Asked if Cruise had visited since his health worsened, he said, "No. It's been a while. I'd rather not go into that because I take care of myself the best I can."
South was admitted to the hospital on July 3, telling friends he feared being diagnosed with chronic obstructive pulmonary disease, which makes breathing difficult. But he said Cruise was unlikely to know about his condition.
"I don't want to bother him with it," said South.
Years ago, it was a different story. Cruise fondly recalled South in a 1986 interview, "In the beginning, I felt threatened by my stepfather. There's a part of you that's in love with your mother. But he is such a wise, smart man."
Article continues below advertisement
South married Cruise's mom Pfeiffer after she split with his dad, Thomas Mapother, in 1978. The family lived in New Jersey.
After delivering a stellar performance in his high school musical, Cruise announced he wanted to head to New York City to pursue acting. Pfeiffer said she and South "wholeheartedly agreed, because we both felt it was a God-given talent … so we gave him our blessing."
South loaned Cruise $850, which the actor paid back by bussing tables in New York restaurants.
But their relationship soured after Cruise's then-wife Katie Holmes gave birth to their daughter Suri in April 2006.
With Pfeiffer apparently immersed in Scientology, South filed for divorce in 2010, citing irreconcilable differences.
Their divorce papers listed Pfeiffer's address as a Scientology-owned building in Clearwater, Fla. Her occupation was "student," suggesting she was involved in the church's "life improvement" courses.
A financial affidavit, newly obtained by The ENQUIRER, put her total worth at $200,000, compared to the staggering $450 million estimated net worth of her superstar son.
While Cruise and Pfeiffer were absent from South's funeral mass, both were featured in a memorial tribute.
About 20 mourners, including three U.S. Navy sailors, attended the gathering. Cruise's sister Marian Henry and nephew Cal also attended – drawing even more attention to the fact that Cruise was nowhere to be seen.