Uh Oh! Kim Zolciak's Son Kane Gets Stitches After Suffering Bloody Head Injury – Details On His Hospital Visit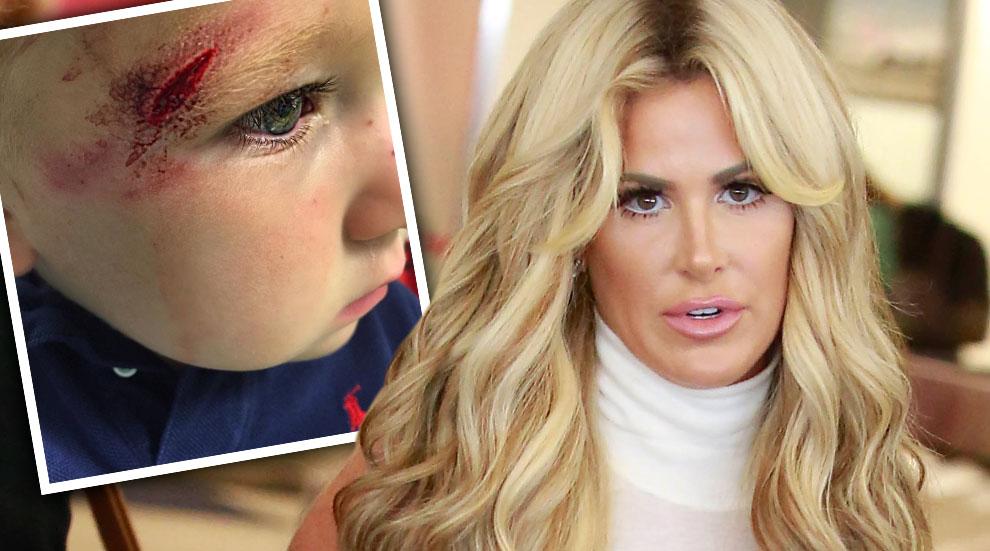 Kim Zolciak had quite the traumatic weekend after son Kane, 1, suffered an accident that left a bloody gash on his forehead.
After the whole ordeal, the former Real Housewives of Atlanta star took to Instagram to share her heartbreak over her little boy's boo-boo.
"Our Saturday night," she captioned a photo of Kane's wound. "#ICantDeal #ImTheOneThatNeedsTheMedsAtThisPoint #Stitches."
https://instagram.com/p/6tRPYjN3kP/?taken-by=kimzolciakbiermann
Article continues below advertisement
"Alllll Kane kept saying was, 'Kaia, Kaia,'" Zolciak added, alongside a heartwarming screenshot of Kane talking with his twin sister.
"So they were on FaceTime while the doctor was prepping Kane. Kane is sound asleep after a few stitches! Thank you for all your prayers I'm wore out."
https://instagram.com/p/6th0vxN3mO/?taken-by=kimzolciakbiermann
Kim and hubby Kroy Biermann are parents to sons Kroy Jr., 4, and Kash, 3, Kane and Kaia, 1. The reality star also has two daughters, Brielle, 18, and Ariana, 12, and from a previous relationship.
Let's hope Kane's stitches heal up nicely!