Keeping The Kids! Kelly Rutherford Violates Court Order, Refuses To Send Kids Back To Monaco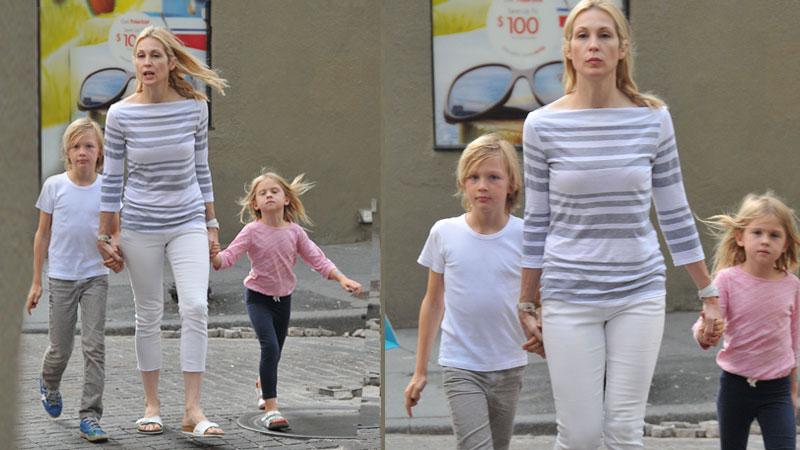 Kelly Rutherford has been battling for years for the right to have her children returned permanently to the United States, but now, she has taken matters into her own hands, and is reportedly refusing to obey a court order requiring her to return her children to Monaco to live with their father, Daniel Giersch after spending their summer with her in New York.
In a statement, Rutherford explained that she had no intention of sending her children back to their father, a German citizen, or of continuing the arrangement that required her to travel to France and Monaco to see her children throughout the years. "These past three years waiting for my children to come home have been very difficult. My children were forced to leave the United states in 2012 when they were only 2 and 5 years old," she explained.
Article continues below advertisement
As RadarOnline.com has reported, Rutherford enjoyed a temporary victory when a California court ordered that her children be returned to her. However, the victory was short-lived, as it was later decided that the court lacked jurisdiction in the case, and decision-making in the custody dispute was turned over to a Monaco court.
"In May, a judge in California gave me sole custody and brought them home. I am immensely grateful and overjoyed to have them back. Since May, however, the court proceedings have been confusing," Rutherford admitted, maintaining that the fact that California and New York have both claimed that they lack jurisdiction to hear the case, "means no state in this country is currently protecting my children. It also means that no state in this country currently requires me to send the children away. Hence, I have decided that I cannot lawfully send my children away from the United States to live in a foreign country," she said in her bold declaration.
A Battle Won: Kelly Rutherford's Shocking Custody Decision! 9 Photos Of A Mother's Love
Throughout her fight to win back her kids, Rutherford has taken extreme measures, including petitioning the Obama administration for help like Kris Jenner to help bring awareness to her plight. But after those efforts proved fruitless, Rutherford simply made a decision to keep her kids, and is sticking with it. "I hope that this decision will end this painful litigation, and that my children will be allowed to live in peace in their own country," she added. "Like all German citizens, my ex-husband can presumably travel to the United States on his German passport and exercise his parental rights in this country, just as I have done for the past three years in France and Monaco on my U.S. passport. I pray that officials in this country and in Monaco will agree that three years in exile is a very long time in a child's life, and that my children have a right to remain, once and for all, in the United States."
Giersch could not be reached for comment.