Duggar-Approved! Family Publicly Supported Rehab Center Before Josh Checked In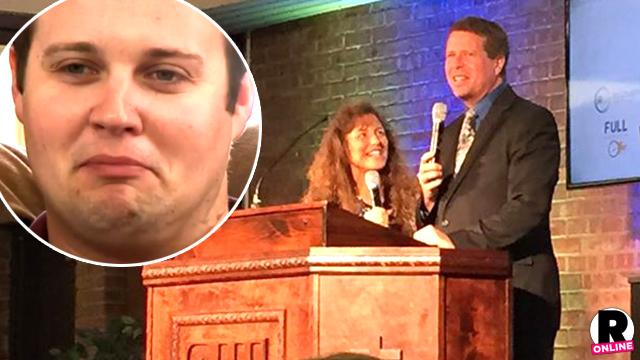 This afternoon, the Duggar family announced that disgraced son Josh had checked into rehab.
But where did the admitted cheater and porn addict go for "long-term" treatment?
News site Gawker tracked pilot brother John David's private plane, which left the Duggars' hometown of Springdale, Arkansas for Rockford, Illinois late last night, landing at 12:17 AM.
The plane turned back around and headed home just ten minutes later.
Article continues below advertisement
It seems Josh, 27, could have easily hopped onto his 25-year-old little brother's plane without any public sightings, and settled into a Rockford facility.
Michelle and Jim have long supported Christian rehab program Reformers Unanimous, which has a residential center right in the city.
The couple even spoke at a Reformers Unanimous convention in October 2014.
https://www.facebook.com/duggarfamilyofficial/photos/pb.510067475793573.-2207520000.1440616504./548612245272429/?type=3&theater
A spokesperson for Reformers Unanimous tells RadarOnline.com they can neither "confirm nor deny" Josh's placement at the facility.
So what could possible patient Josh learn at RU?
"Renowned behavior modification experts…have produced a program that uses a unique spiritual approach to develop lifelong stability," the website claims. "Every part of our program is in place to transform a 'non-functioning' person into a stable, successful member of society."
The program boasts an 80% success rate.
Josh made headlines last week when he admitted to cheating on his wife of seven years, Anna, following reports he had a membership on affair-seeking website, Ashley Madison.
This morning, porn star Danica Dillon, 28, revealed that she had two bouts of "rough sex" with Josh for money this spring, while Anna was pregnant with their fourth child.