Circle Of Life: Vicki Mourns The Loss Of Her Mother As Tamra Becomes A First-Time Grandma On 'RHOC'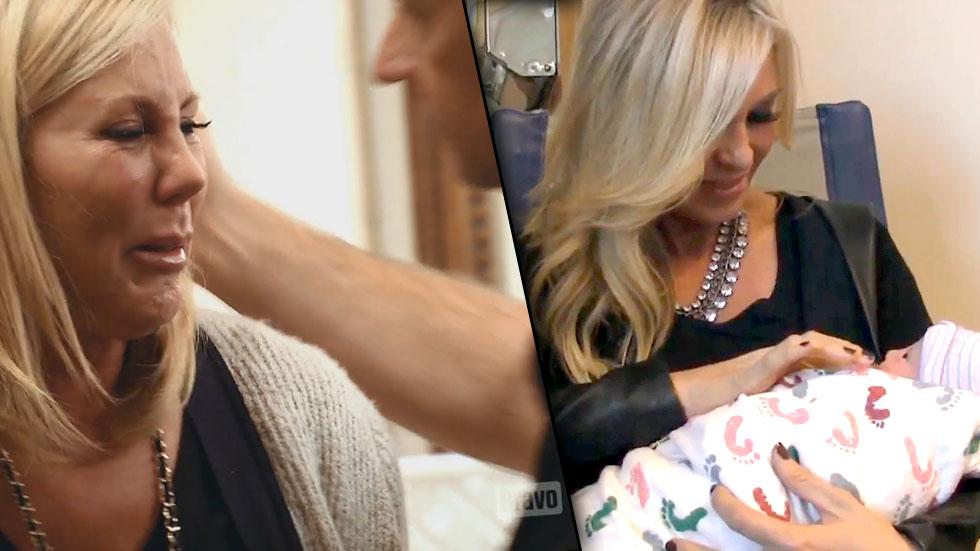 As the shock of Vicki Gunvalson's mother's sudden passing sunk in on Monday's episode of the Real Housewives of Orange County, the cast turned to what matters most: family.
Grieving her mother, Vicki heads to Chicago to make funeral arrangements with her siblings, but getting through it all proves to be rather difficult for the 53-year-old.
"I feel lost, I feel lonely, I need my mom," she tearfully admits in confessional.
Article continues below advertisement
Vicki attempts to go through her mother's belongings, but finds herself feeling worse than ever.
"It's only been a week since my mom died and I don't know how I'm going to function," she worries, later telling Shannon Beador over the phone that she is "completely numb" and hasn't slept.
But as one life ends, another begins. Tamra Judge is swept away by the birth of her granddaughter on the same day that Vicki buries her mother.
"I'm a grandma! It's precious and … I feel a little old," Tamra jokes before getting sentimental. "This little baby, she's a part of me and I feel like my whole life has changed."
The new grandma gets a big introduction in the hospital, holding her son Ryan's oldest daughter for the first time in an emotional moment.
Watch the Video on RadarOnline
For younger housewife Meghan King Edmonds, Vicki's loss inspires her to create a stronger bond with her stepdaughter, Hayley.
Article continues below advertisement
The two gals, less than 20 years apart, hit the water for some surfboard yoga, sharing plenty of laughs along the way.
Things get serious as they take a break on the beach, however, and Meghan describes compares the recent shock to Hayley's mom's battle with colon cancer.
"It's like I was looking through a lens at you," Meghan cries. "I felt like the thing that wasn't fair was that she's 50 and you're 17."
Meanwhile, Shannon concentrates on mending her marriage once more.
David attempts to connect with his kids, letting them know that their "mommy has been upset" with him.
"He should talk to me about that in private, not in front of our kids," Shannon tells cameras.
Shannon later confronts David about his behavior, in an attempt to rebuild their trust after his heartbreaking affair.
"Each time you hear about the affair it's like a knife in your heart," Shannon breaks down in confessional.
Article continues below advertisement
Watch the Video on RadarOnline
Heather Dubrow continues to deal with hubby Terry's busy schedule, noticing that their children are not happy with his absence.
"I think she's sort of irritated with him that he's not around a lot," Heather comments on her daughter's cold behavior towards Terry.
Later putting her focus on friends, Heather gathers the girls together for a night of celebrating Tamra and comforting Vicki.
Who says these girls can't get along in a time of crisis?
The Real Housewives of Orange County airs Mondays at 9 PM EST on Bravo.