Uh-Oh! Leah Messer's Ex-Husbands & New Girlfriends Team Up During 'Teen Mom 2' Reunion Taping: See The Shocking Photo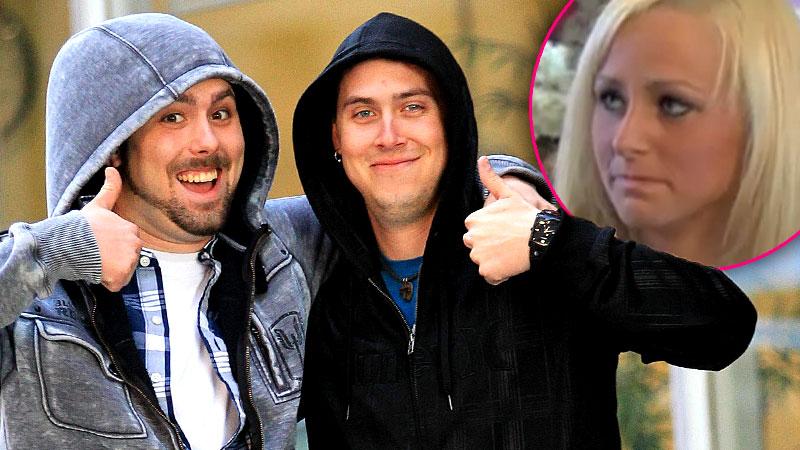 It's Leah Messer's worst nightmare!
While filming the Teen Mom 2 reunion in Los Angeles, over the weekend, the MTV reality star's first ex-husband and baby daddy, Corey Simms, reportedly tweeted— and quickly deleted— a scandalous photo.
But fortunately, a Teen Mom fan Twitter account grabbed the photo before the dad of Messer's 5-year-old twins Ali and Aleeah took it down.
In the shocking snap, Simms and his pregnant wife Miranda hung out with Messer's second ex-husband and baby daddy, Jeremy Calvert, and Calvert's new girlfriend, Ohio single mom Brooke Wehr.
Article continues below advertisement
After deleting the pic, Simms posted a cryptic message to his nearly half a million followers.
"I usually keep my mouth shit and don't say much but yeah you'll see," he wrote on July 17.
As RadarOnline.com previously reported, Simms and Calvert have become friends following the pipeline engineer's divorce from Messer.
"Though they used to fight, Corey and Jeremy have a great relationship now," an insider told RadarOnline.com. "They obviously dealt with a lot of the same issues. And now that they talk, Jeremy can see Corey's side in his past arguments with Leah."
Could they have teamed up to take down Messer during the reunion taping?
Fans will have to wait until the show airs in a few months, but as RadarOnline.com revealed, Calvert was planning to expose his ex as a serial cheater during the special's filming.
"She won't be able to deny the truth in front of everyone," a source said. "She won't get away with her lies for long."