Bling Bling! Jim Bob Duggar Buys Giant Ring For Baby Mama Michelle On Wedding Anniversary In The Wake Of Scandal!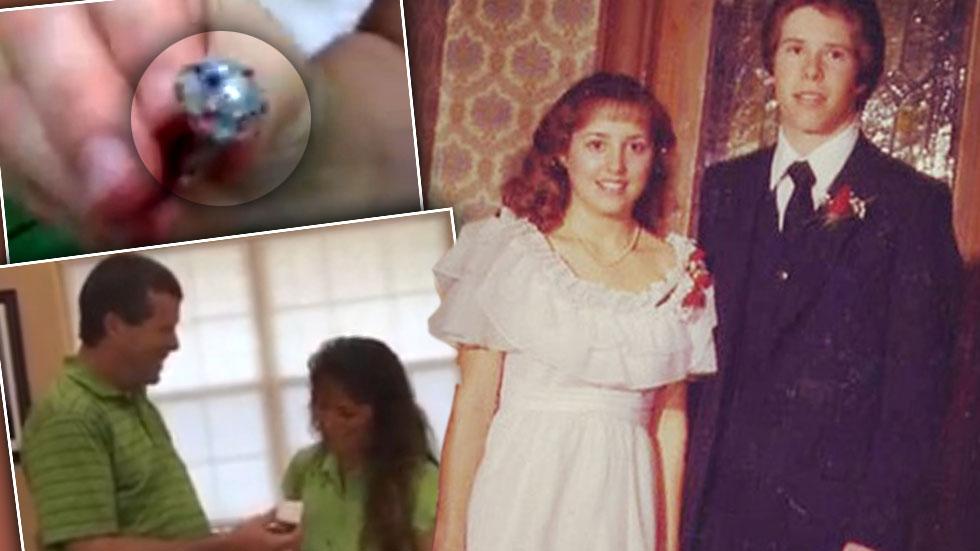 Jim Bob and Michelle Duggar celebrated their 31st wedding anniversary on Tuesday, and despite recent news that TLC was canceling their lucrative reality show, Jim Bob spared no expense buying Michelle a blinged-out ring to thank his wife for bearing all of his children and sticking with him through the years.
In a video uploaded to the family's blog, Jim Bob can be seen presenting his wife with the ring. "That is all 19 of the birthstones of all of your children," he explained as Michelle gawked at the massive rock. "I had that made for you, he boasted."
Article continues below advertisement
"That is one big amazing cluster," she said breathlessly as the family cheered an applauded.
As RadarOnline.com has reported, the past few days have included many celebrations for the Duggar clan, with Jim Bob celebrating his 50th birthday, and Anna and Josh welcoming a new baby girl into the world. These happy occasions bring some much-needed joy to the family that has been struggling to emerge from the dark shadow of scandal brought on by the revelation that Josh Duggar had molested at least five young girls as a teenager.
"With God's grace and help Josh, our daughters and our entire family overcame a terrible situation," the family said in a statement after the cancelation of 19 Kids And Counting . "It is our prayer that the painful situation our family went through many years ago can point people toward faith in God and help others who also have lived through similar dark situations to find help, hope and healing, as well."