22 Weeks! Jessa Duggar Snaps Pregnant Selfie As Brother Josh Faces Potential Civil Suit For Sex Abuse Scandal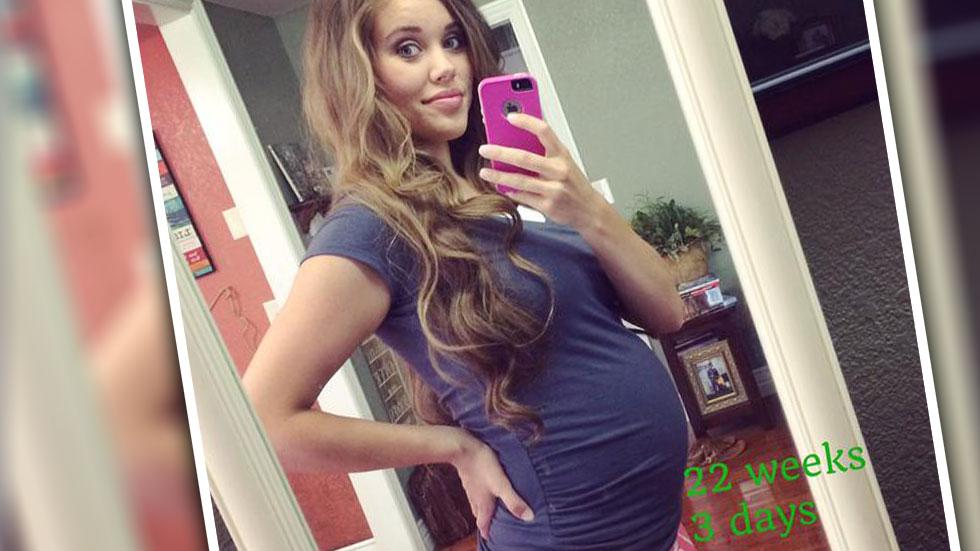 Jessa Duggar Seewald keeps her fans in the loop with a new pregnancy selfie!
The 22-year-old shared a snap to show her progress at 22-weeks, posing in front of a mirror to flaunt her growing baby bump.
"At #22Weeks, #BabySeewald now weighs just over a pound!" she wrote on Twitter.
The mom-to-be has also been sharing her newly healthy diet, something the soda-loving Duggar family has struggled with in the past.
Article continues below advertisement
"Reading through the book Trim Healthy Mama and feeling inspired," the reality star wrote of a meal. "These ladies are great! By far the best, most well rounded approach to healthy eating, in my opinion! Y'all should definitely check it out. #TrimHealthyMama #EatWell."
https://instagram.com/p/4nMKWZDflo/
Duggar also teased about little Seewald's gender:
"We recently had an ultrasound, but aren't revealing our firstborn's gender yet," she told Twitter followers. "Can't wait to welcome this blessing from God into the world!"
Meanwhile, brother Josh could be facing even more trouble after his teenage sex abuse scandal hit newsstands.
InTouch reported that one victim – the non-family member – is not happy with the way the family handled the controversy through the media.
"I have heard that the non-family victim is preparing to sue," a law enforcement insider told the publication.
Look out, Josh! This may not be the end of the Duggar's family nightmare.