'They Didn't Respect My Privacy': Countess LuAnn de Lesseps Claws At Heather Thomson & Carole Radziwill For Vacation Violation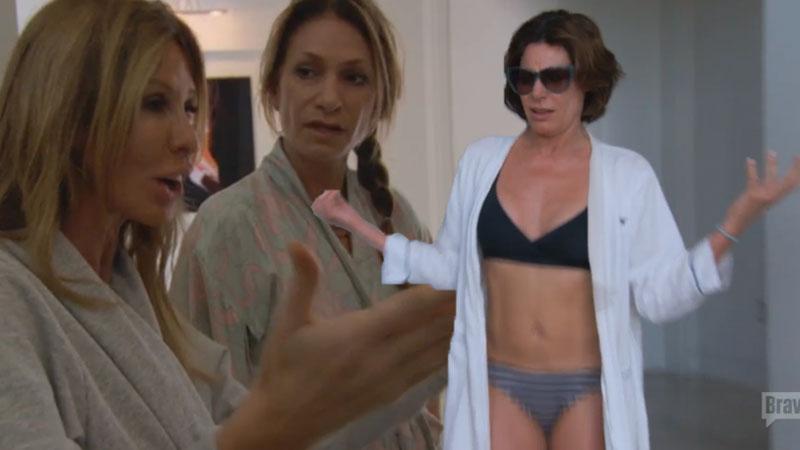 LuAnn de Lesseps calls out Heather Thomson and Carole Radziwill in her latest blog, claiming they didn't respect her privacy during the show's recent Turks and Caicos trip.
As RadarOnline.com previously reported, The Real Housewives of New York's resident Countess exchanged words with Thomson on this week's episode after the duo blamed her for the presence of a strange man at their vacation home. (After she, Ramona Singer and Sonja Morgan "invited some lovely English gentlemen back to the house.")
Article continues below advertisement
The Countess furthered on that thought, recanting how she felt like her Gotham gals acted inappropriately in response to the mystery man's presence.
"Heather and Carole ... may have knocked, but I can assure you, they didn't wait for an answer before running into my room," she wrote. "I could have been swinging from a chandelier with a guy on my back for all they knew ... it could have ended up differently."
Admitting, "I was angry that they didn't respect my privacy," de Lesseps made clear how obligated she felt to live up to her conservative castmates' expectations.
"We were on vacation, and I'm not married or in a serious relationship ... I'm single, and I can do what I like with whom I like," she wrote, "and it's none of their business."
The "Girl Code" singer also took exception to Radziwill's face-saving denial to Thomson that she apologized to her (after she said sorry).
"I assure you, Carole apologized for invading my privacy," the brunette stunner wrote, adding that her biggest issue with the whole situation was that "neither Heather nor Carole feel like they did anything wrong."
The Real Housewives of New York airs Tuesdays at 9/8c on Bravo.