Real Widows Of New York: Carole Radziwill Bonds With Dorinda Medley Over Their Dead Husbands -- And JFK Jr.!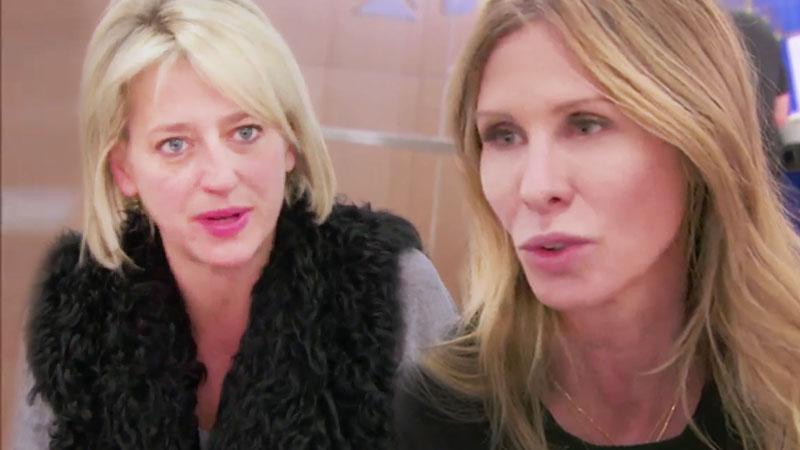 Carole Radziwill rarely talks about her marriage, but that is all about to change. In a preview for the upcoming episode of The Real Housewives of New York City, Radziwill opens up to Dorinda Medley about the death of her husband as the two prepare to travel to Great Britain.
Radziwill begins the conversation by telling Medley about her husband's urn having to be moved to a new location.
"I brought the urn there on the one year anniversary of his death," she says. "And who would have thought 15 years later? Never get cremated. Go in the ground. They can't move you."
Article continues below advertisement
"That's the beauty of life: you just never know what to expect," Radziwill continues in a confessional. "I thought when I brought the urn to London, it was in the perfect place: this beautiful place where his father was buried. And here we are, 15 years later, I'm going back to London to get the urn."
This leads Medley, whose own husband Richard Medley died during their marriage as well, to ask Radziwill about her marriage.
"I don't know what it's like with Richard, but Anthony's been gone now 15 years and we didn't have kids," Radziwill says. "He would have been older than any man I've dated… I think Anthony would be like 57 or 56 right now."
She then describes her husband as having been "really handsome" and says that he looked like his father.
And with a little probing from Medley, Radziwill reveals that her husband was related to the Kennedys.
Article continues below advertisement
"My husband's mom was Jackie Onassis' sister," she explains. "We had a place out in Sagaponack. We shared a house with Anthony's cousin John."
And it turns out that Radziwill was best friends with Carolyn Besette-Kennedy.
"John's wife Carolyn was my closest friend," she says.
Sadly, Radziwill's friends died shortly before her husband.
"They died like three weeks before Anthony," she says. "That messed me up for a little while."
RHONY airs on Bravo Tuesdays at 9:00 PM EST.