'Queen Of Versailles' Jackie Siegel 'Is Grieving As We All Are' –– Find Out The Reason For Mother's Shocking Selfies At Teen Daughter's Funeral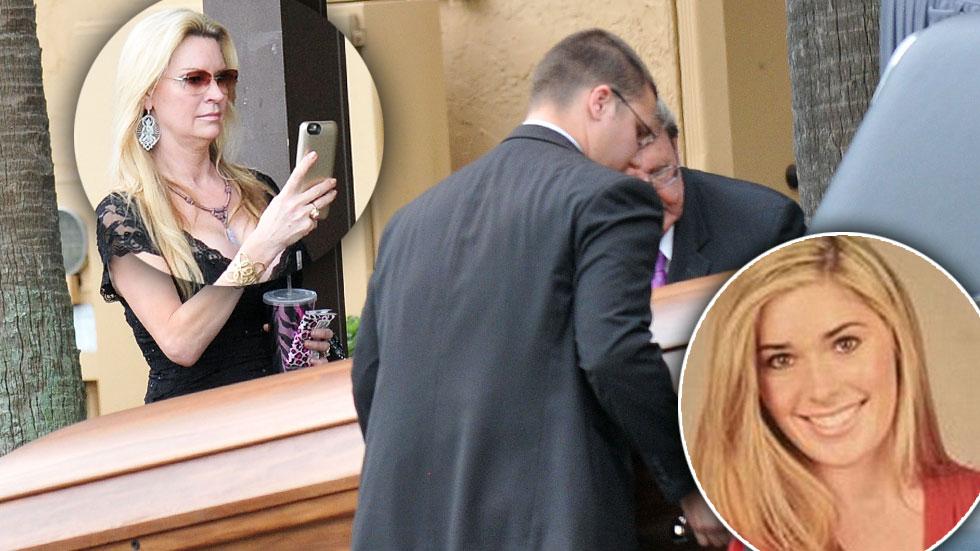 Jackie Siegel's rep defended her series of selfies at her daughter's funeral as the result of an "emotional rollercoaster" she's been on in the wake of the teen's death.
"People deal with grief differently; Mrs. Siegel is grieving as we all are," family spokesperson Michael Marder said in a statement Thursday, after a number of reports focused on the Queen of Versailles star's unusually-upbeat demeanor as her daughter Victoria was being laid to rest Tuesday at Orlando's St. Luke's United Methodist Church.
Article continues below advertisement
"Jackie has cried … a lot," Marder said, adding that "the way Mrs Siegel is being portrayed by some in the media is just adding additional pain not only to her, but the entire family."
Jackie, breaking her silence to ABC News this week, speculated on the nature of her daughter's heartbreaking death, in the wake of reports the recently-rehabbed teen had received bullying texts from a love rival hours before her passing.
"I don't think she had any intention of killing herself, I think she intended to soothe the pain she was going through," the mother said. "I miss her so much."
The Siegel family "has been sleeping together in the large family room of the house since this horrible tragedy happened," and "are talking together, crying together and caring for and loving each other" following the 18-year-old's death, Marder said.
As RadarOnline.com previously reported, a housekeeper discovered Victoria -- a 2014 graduate of Olympia High School who was nicknamed "Hippie Rikki" -- unresponsive in the family's Windermere, Fla. home on Saturday afternoon, while her parents were in Utah for a wedding; she was subsequently pronounced dead at Ocoee's Health Central Hospital.
The family, which owns Westgate Resorts, gained fame via a 2012 documentary that chronicled the building of their 90,000 sq. foot mansion.