NY Prison Break: Manhunt Expands To 450 Officers, Past New York Borders –– Bloodhounds Pick Up Suspicious Scent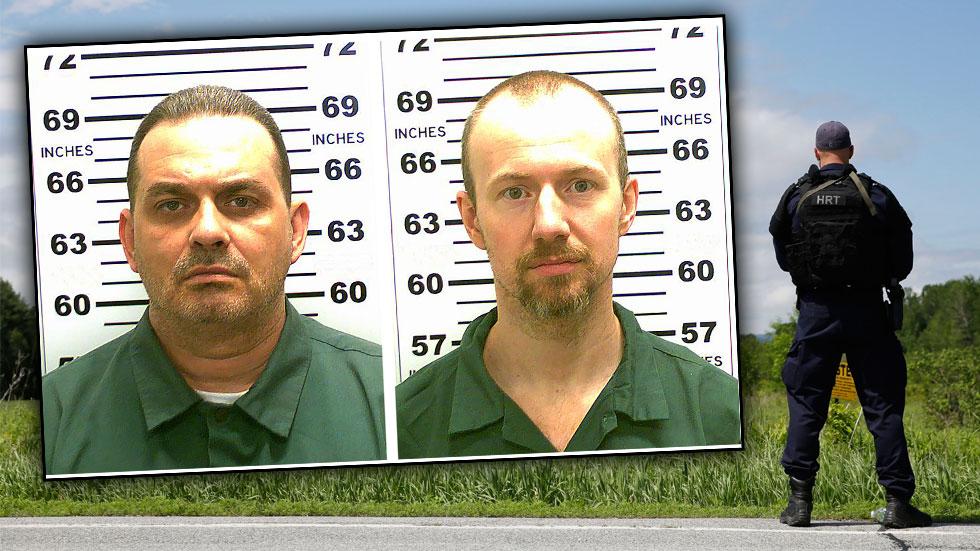 UPDATE: Authorities early Thursday confirmed that bloodhounds dispatched in the case reacted to a strong scent, causing them to shut down eight miles of State Route 374 in their ongoing probe. Local schools were shut down for the day, as Saranac Central School District Superintendent Jonathan Parks said he wanted to "get out of law enforcement's way" as they seek the escaped convicts.
Police said they "have no information on where" the two convicts who escaped from a New York prison are, "or what they're doing," as the manhunt expanded to Vermont Thursday.
Article continues below advertisement
New York State Police Superintendent Joseph D'Amico confirmed the latest developments in a news conference on Thursday, while Vermont Gov. Peter Shumlin said that information received indicated the two escapees -- David Sweat, 34, and Richard Matt, 48 -- might head east to dodge the cops.
"We have information that suggests they thought New York was going to be hot -- Vermont would be cooler, in terms of law enforcement," Shumlin, flanked by New York Gov. Andrew Cuomo, said Thursday.
The search party has expanded to more than 450 officers from federal and state branches including federal marshals and customs agents, officials said.
Sheriff David Favro implored the public not to get directly involved in the search, saying, "We don't want them out searching the woods -- but if you're sitting on your porch, get your binoculars out and see if you see something unusual."
Cuomo said that the public should immediately report any suspicious sightings to law enforcement, adding, "Trust me, these men are nothing to be trifled with."
Article continues below advertisement
Watch the video on RadarOnline.com
D'Amico also said that Joyce Mitchell, the 51-year-old supervisor in the prison tailor shop, "may have had some role in assisting" Sweat and Matt, despite her son's insistence on her innocence in an interview with NBC News.
In a new development on Thursday, government officials told NBC News that Matt had charmed Mitchell with sweet talk the past few months, in hoping she would be their getaway driver in the caper.
"She thought it was love," an official said.
As RadarOnline.com previously reported, Sweat was sentenced to life with no chance of parole in the 2002 killing of a police officer, while Matt was serving a 25-year-to-life sentence for a 1997 conviction in the kidnapping and killing of a man. The deadly duo broke out of Dannemora's Clinton Correctional Facility Saturday after using power tools to cut through their steel cell wall before snaking across a catwalk, breaking a brick wall, traveling through a steam pipe, and exiting out of a manhole cover outside the maximum-security correctional facility that houses 3,000 inmates. They also left prison officials a note that read, "Have a nice day."
A $100,000 reward has been offered for info leading to the recapture of the inmates.