NY Prison Break: Accomplice Wasn't Scared Of Escaped Convicts After Quitting As Their Getaway Driver –– Amid Reports Men Had Planned To Kill Her Husband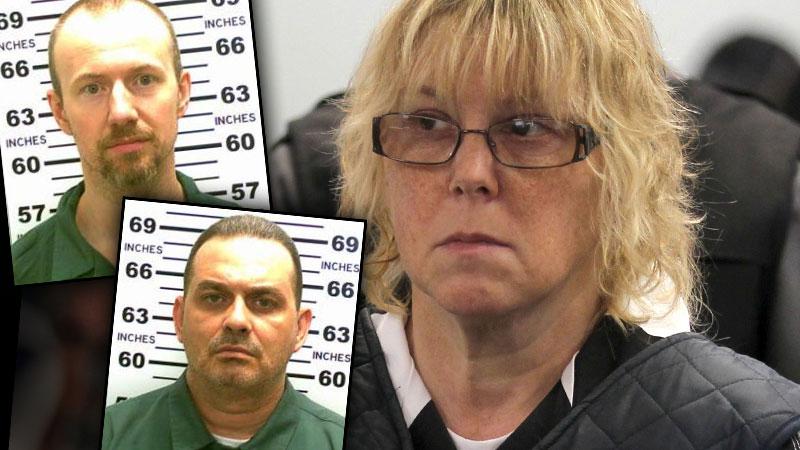 The prison worker accused of aiding two convicted killers escape wasn't afraid of the men coming for her after she got cold feet in acting as their getaway driver.
As RadarOnline.com previously reported, Joyce Mitchell, the married 51-year-old supervisor in the tailor shop of Dannemora's Clinton Correctional Facility, appeared in court in Plattsburgh, New York Monday. There, she was charged with one felony count of promoting contraband, and a misdemeanor count of criminal facilitation, waiving a preliminary hearing in the case.
Article continues below advertisement
Wylie said that after Mitchell failed to assist Richard Matt and David Sweat in their getaway plan -- "She had a moment where she realized, 'What am I doing?' She realized this was not something she wanted to do" -- she didn't panic after breaking her promise to the volatile escapees, even knowing the men had planned on killing her husband Lyle as part of their breakout, CNN reported.
"Based on my reading of the statements she made to law enforcement, she did not express that concern," Andrew Wylie, Clinton County District Attorney, told People.
Watch the video on RadarOnline.com
Mitchell gave the escaped convicts access to "blades, chisels, drill bits and other tools that helped the inmates break out of prison," Wylie said Monday, adding that she "was previously investigated on suspicion of having a personal relationship with David Sweat."
Mitchell, who has pleaded not guilty to the charges, could spent up to seven years in custody if convicted.
Article continues below advertisement
In related news, more than 800 police officers continued on the manhunt for Matt, 48, and Sweat, 35, on Monday.
Sweat was sentenced to life with no chance of parole in the 2002 killing of a police officer, while Matt was serving a 25-year-to-life sentence for a 1997 conviction in the kidnapping and killing of a man. The deadly duo broke out of Dannemora's Clinton Correctional Facility June 6 after using power tools to cut through their steel cell wall before snaking across a catwalk, breaking a brick wall, traveling through a steam pipe, and exiting out of a manhole cover outside the maximum-security correctional facility that houses 3,000 inmates. They also left prison officials a note that read, "Have a nice day."
A $100,000 reward has been offered for info leading to their recapture.